Cloud Workflow Automation
Cloud workflow automation drives continual Service Optimization – Rightsizing, Instance Class remediation, automated start / stop / terminate, scaling services, backup compliance, etc need to be policy driven wherever possible. Recommendations on what to do does not help. We need to be able to action our insights automatically.
Kumolus Cloud Management – from Insight to Action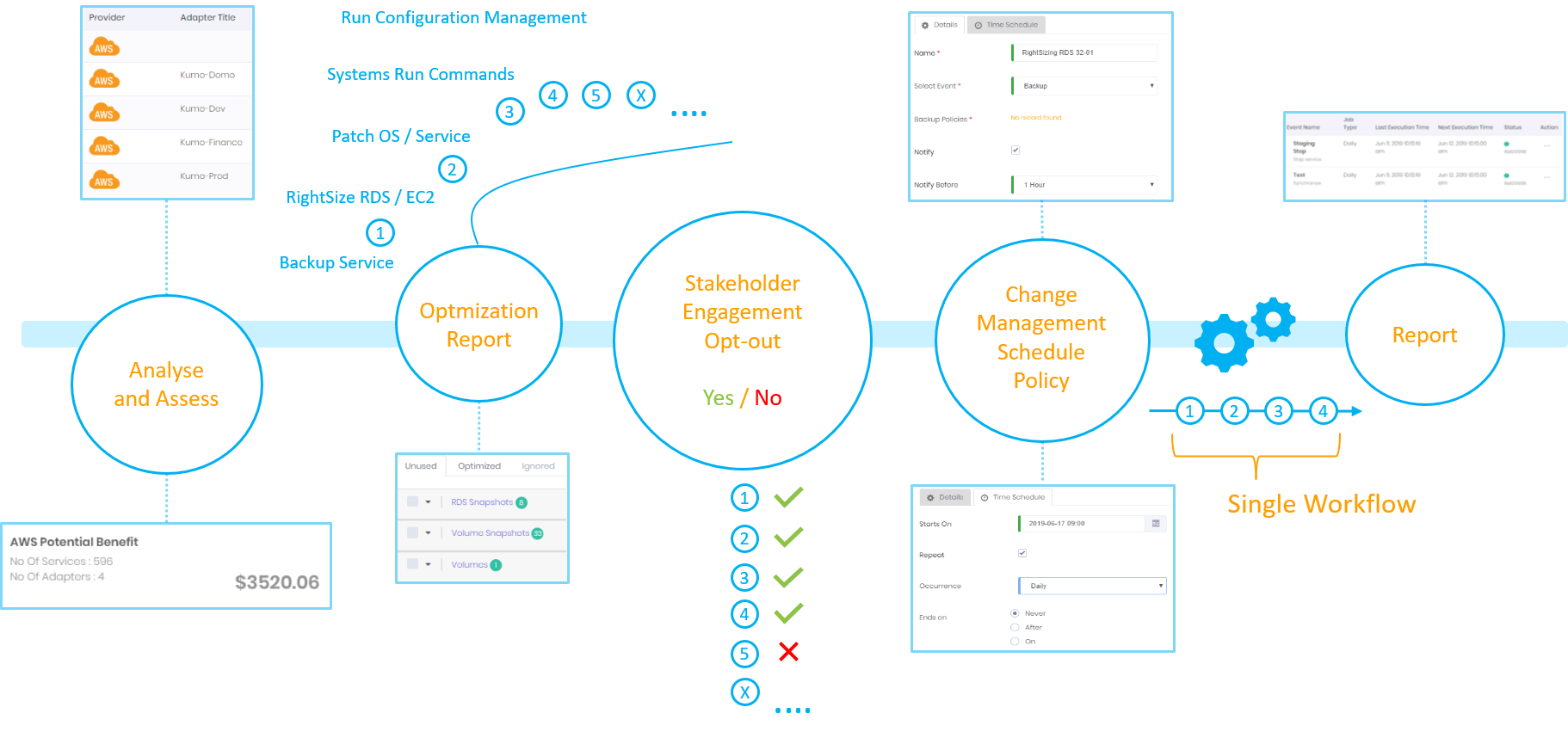 Workflow Engine
Kumolus has a highly configurable Cloud automation workflow engine. Discover, analyse, report and recommend service optimisation targets with measured benefits. Utilise these recommendations to drive scheduled events to continually optimise your AWS services.

Multi-event Workflows
Automate Stop, Start, Terminate, Backup, Rightsizing, Scaling, Patching, Configuration Management and / or one or more Run Commands as one workflow. Utilise a patching trigger for security to optimise an EC2 instance requiring only one change.

Finely tune Tagging and Service Selection
Automate tagging and naming conventions and realize fine grained control of workflow events by tag, multiple tags, by environment or service type, account, region and more. Utilise Boolean logic and regular expressions to finely tune which services will be targeted for remediation.

Advanced Event Configuration
Finely tune event triggers. Drill down selections and configure multiple Boolean conditions with detailed and finely tuned parameters. Utilise multi && AND and || OR then Include tuning for Idle, CPU percentage and connection counts for databases and much more.

Dynamic Service Reporting
Dynamically view each service that will be affected by the workflow. As you make Tagging and Service control selections Kumolus will show you all "Applicable Services" will be remediated so there are no surprises.

Configure via Platform or API
Setup rules quickly and easily within the GUI interface. No coding or configuration complexity using the intuitive wizard setup for each workflow. Utilise the API to directly inject and run workflow commands for advanced platform users.

Multi Time-Zone and Multi-tenanted Scheduling
Configure federated workflow schedules as an MSP to meet SLA. Configure customized schedules for multiple time zones for different tenants and / or business units. Set start date / times and control repeats, intervals, occurrence and end time of each workflow item down to the minute. Set notification parameters and enable opt-out emails so stakeholders are informed and in control.

Event Logging and Reporting
Rich event reporting to show you exactly what happen per event. Full event audit history. Filter reporting by Status, Region, Type, Frequency and run customised searches. Review multi-event workflows in a single view.

Workflow Opt-out
Stakeholders will be notified by E-mail that their service is being affected and given the option to Opt-out / cancel the workflow activity. Empower your business to drive cost optimization benefits with lower risk and greater control.