Cloud Configuration Management
Cloud Configuration Management drives continual Service Optimization – integrate easily with popular automation tools. Set SOE standards, control and govern deployments without impacting speed of delivery.
Kumolus Cloud Management – Cloud Configuration Management made Easy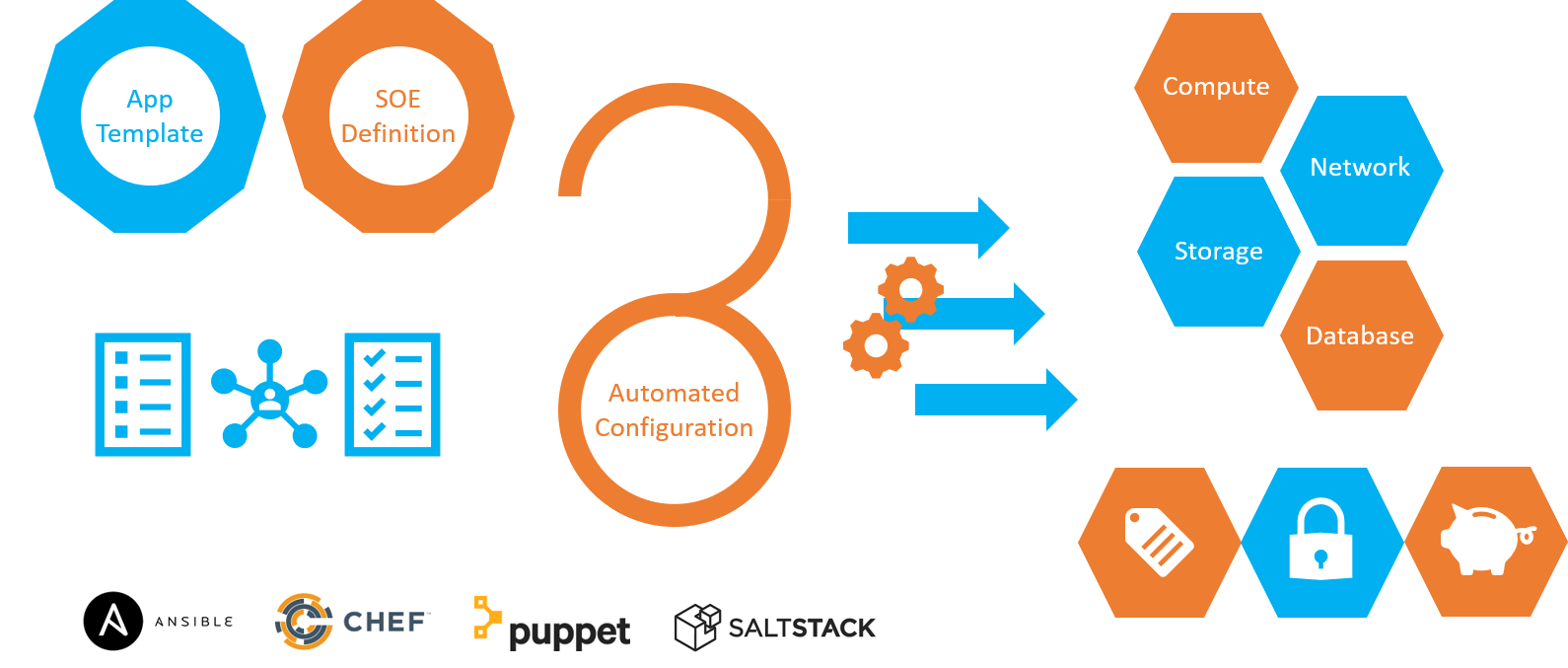 Configuration Management Features

SOE Management – reduce Change Management
Kumolus enables SOE control of Cloud services to assist in the reduction of cost and time taken to deploy, configure, maintain, support and manage Cloud environments. Having an SOE foundation creates a repeatable known, expected and supportable environment whilst fostering speed via increases automation and reduced change management.

Get more from Automation Tools – Ansible, Puppet, Chef, SaltStack
Reduce change management requirements. Take Chef, Puppet, Ansible, Saltstack to the next level – integrate existing automation tools with optimization workflows. As you Rightsize or optimize a service pull down SOE configuration Run Commands from your Configuration Management tools and ensure that service meet operational standards.

Configuration Tracking – know your environment changes
According to Gartner, up to 80% of system outages are due to unplanned changes within the IT environment. Kumolus allows for the continuous monitoring, revision control and roll-back of environment changes to allow easy identification of incidents and more importantly faster resolution.

Asset Tracking Automation – drill down and manage any service
Kumolus allows you to set custom tagging and naming convention rules, including mandatory rules on every cloud object within the environment. Whether it is an operationally triggered Snapshot or a Security Group added as part of a security change, Kumolus custom tagging ensures these movements can be tracked, even changes made by 3rd party or Native Cloud tools.

Drift Tracking – utilise Revision Control to Check Configuration Changes
Leverage revision control to compare dev, test, and production environments. Review changes in Production over time and have a complete audit trail of configuration changes. Improve change and release management – and reduce risk and incidents.

Real-time Configuration Documentation – Always up to date
With the agility of cloud comes the ability for rapid change; static IT environment diagrams and 'as built' documentation are'nt adequate. The Kumolus discovery engine provides 'real-time' up to date view of your IT environments and service configurations. Exportable as PDF or automatically injected into Change Management systems.