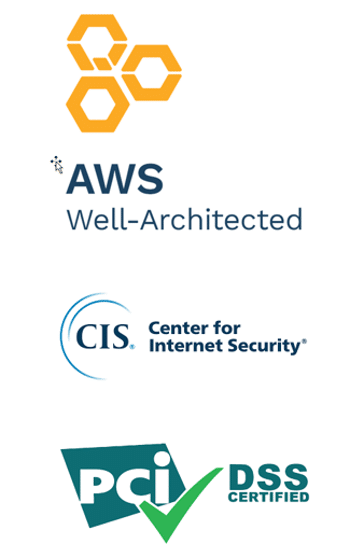 Simplify Security and Regulatory Compliance
Kumolus helps you continuously monitor existing application environments to help you continually improve your security and compliance posture.
With the pace of change with Cloud computing especially in large organisations its difficult to keep track of 1000s of configuration change per day. Its now impossible to understand what privileges are being exposed and how these can be escalated. Without the ability to visualize architectures that may have existed for many years its truly impossible to understand the security risk. Kumolus is the only platform that gives true representation of Security over full-stack Cloud architectures diagrammatically without lengthy human effort.
Continuously improve your Cloud Security and Compliance Posture
Visualize Security vulnerabilities over Architecture Diagrams
Visualize existing environments within seconds and then overlay over 300+ security checks for AWS Well-architected, CIS, PCI-DSS and more dynamically over the architecture. Immediately identify a design flaw or configuration oversight in an operating system or software application to gain elevated access to resources that are normally protected from an application or user.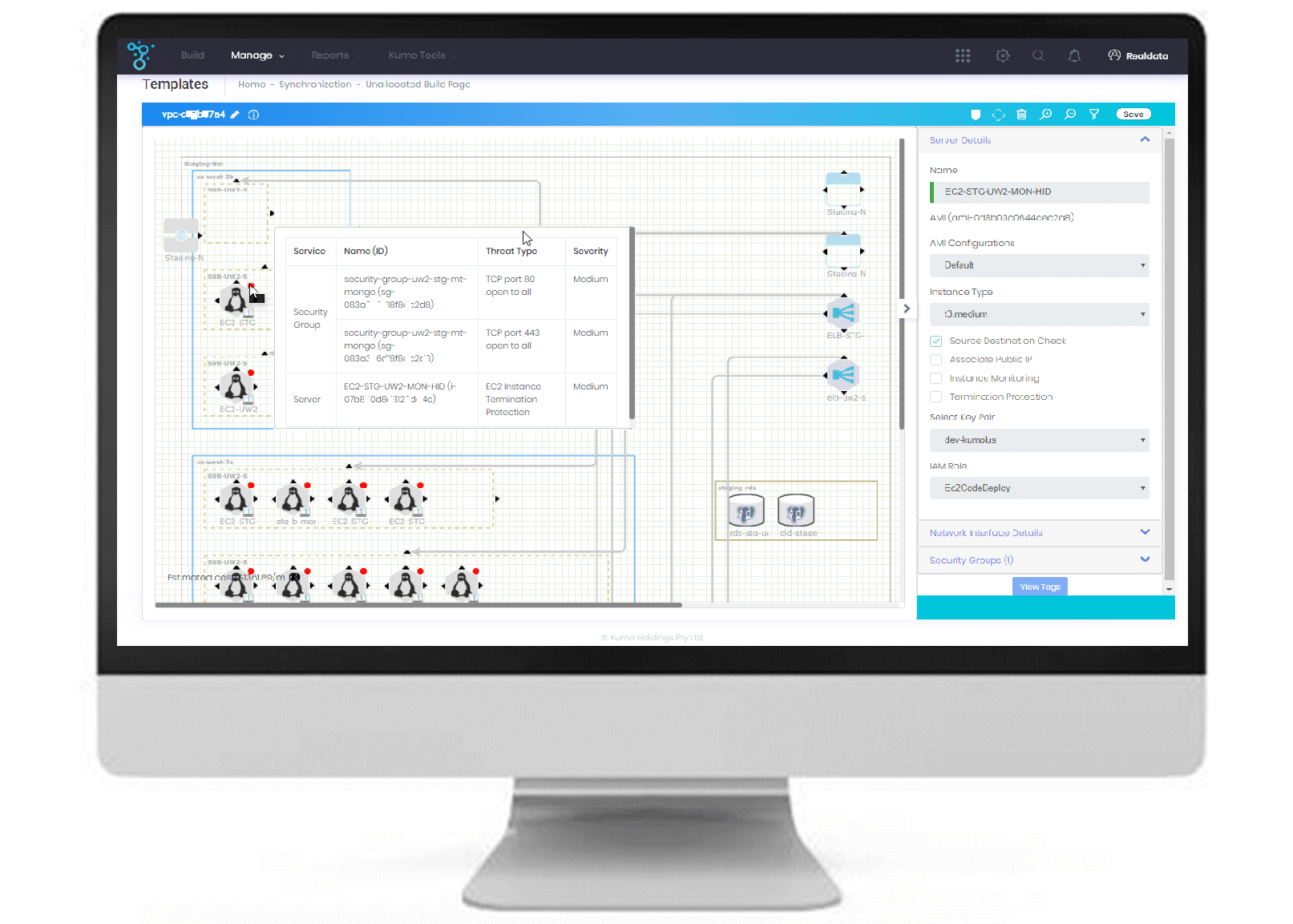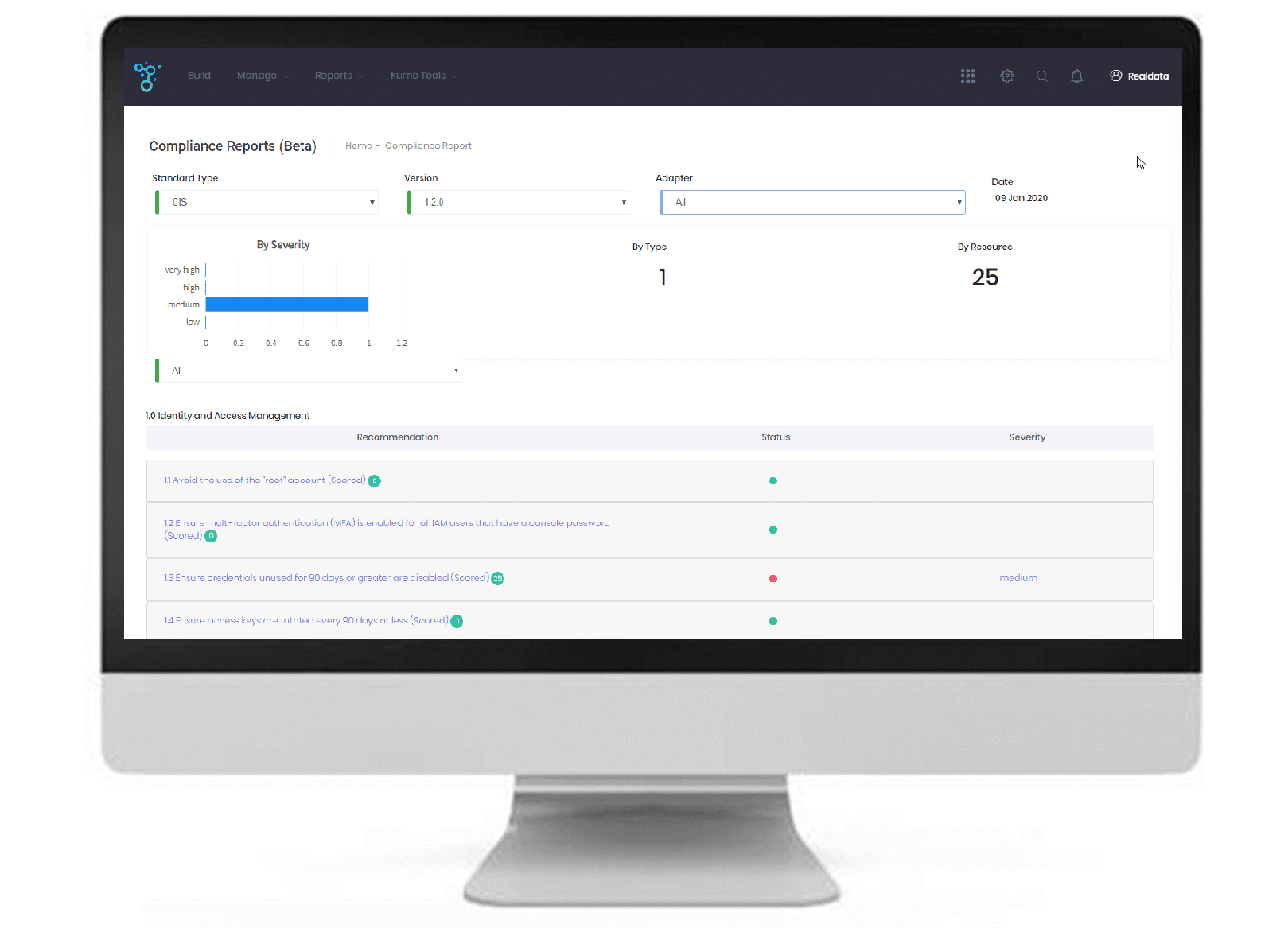 Simplify Regulatory Compliance
Achieve compliance with regulations such as CIS, PCI-DSS and more. Immediately understand services in a non-compliant state and take remediation actions to reduce your attack surface. Automatically check against the pillars of AWS Well-architected principles.
Identify Security Threats
Kumolus Security Advisor ensures your public cloud infrastructure is proactively monitored, and provides the ability to detect 300+ security threats against Compute, IAM, Database, Storage and Network. Enhance security posture and shift left DevSecOps practices to drive business outcomes.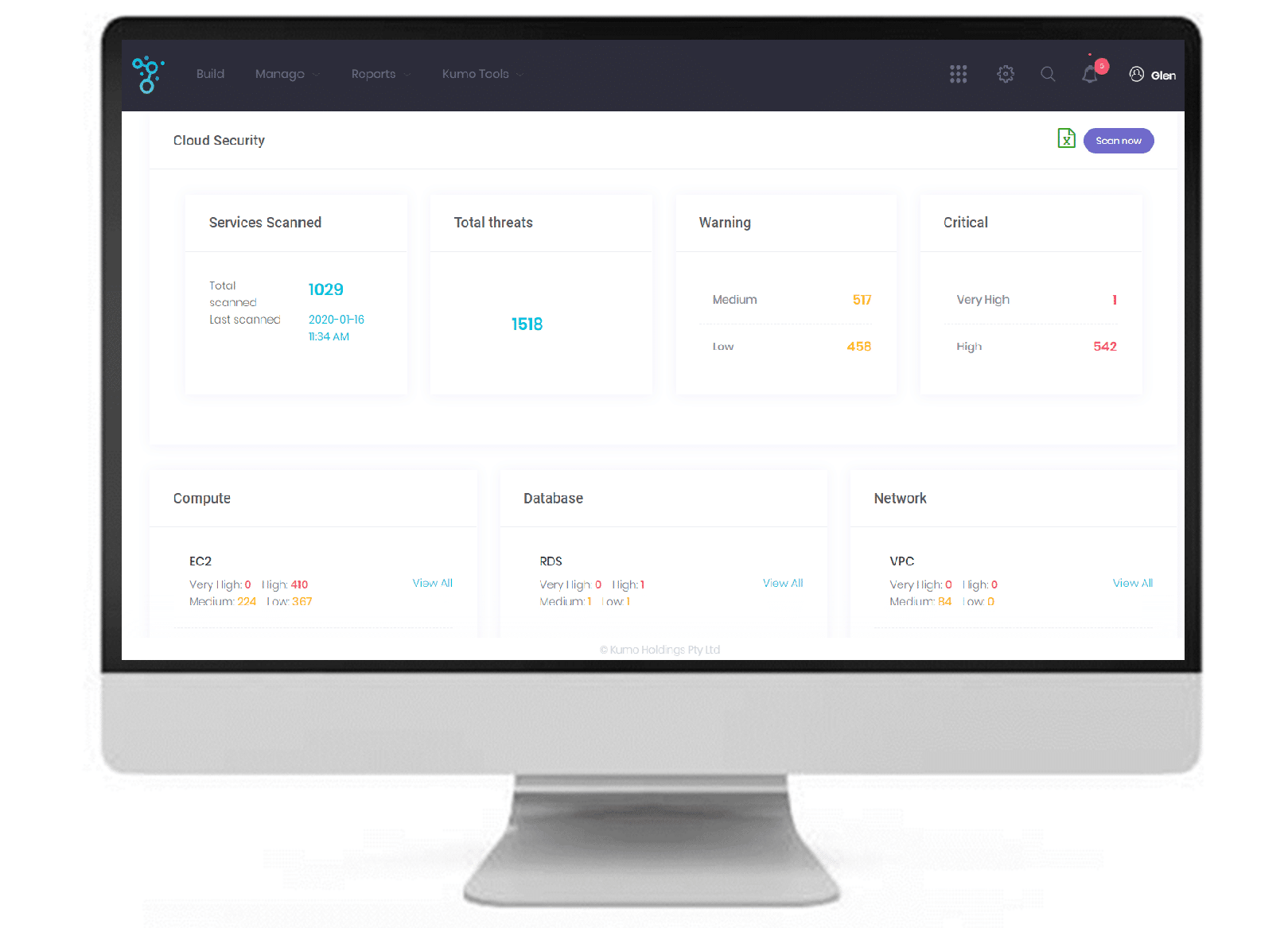 Cloud Security Challenges
No ability to Visualise an Application Stack
Design Flaws and Configuration Oversight
Policy Violations
Privileged Escalation and Data Breaches
Access Management
Application Centric Regulatory Compliance
Revision Control – every change tracked!
Once you have created an application environment or discovered an existing Kumolus will track all changes in that environment. Keep track of each change by Kumolus, Cloud Native or 3rd party tool. Whether there is a single, or multiple changes a log will show revision, timestamp and a description of the user and change implemented.
Event Logging and Reporting – correlated event actions!
Rich event reporting to show you exactly what happen per event. Full event audit history. Filter reporting by Status, Region, Type, Frequency and run customised searches. Review multi-event workflows in a single view.
Drift Tracking – utilise Revision Control to Check Configuration Changes
Leverage revision control to compare dev, test, and production environments. Review changes in Production over time and have a complete audit trail of configuration changes. Improve change and release management – and reduce risk and incidents!
Track Native Cloud and 3rd Changes – ecosystem friendly!
Kumolus does not stop you using other tooling. Once Kumolus is environment aware it will also track changes made by native cloud tools as well as 3rd party tools. If you make an automated change as part of your CI/CD release process a revision will be created. Whether you use AWS CloudFormation or Terraform it will be tracked.
Cloud Compliance Standards
Kumolus checks your cloud services with the following compliance standards and guidelines. Kumolus provides a unique view with its ability to not only provide compliance reports, but to visualize the compliance related issues over your architectural diagrams of your applications.
The Centre of Information Security is a forward thinking, not for profit organization that leverages the global IT community to publish a number of compliance standards.
PCI DSS an information security standard, designed by the Payment Card Industry Security Standards Council, to ensure that companies worldwide accepting credit card payments stores or transmits credit card data in a secure manner.