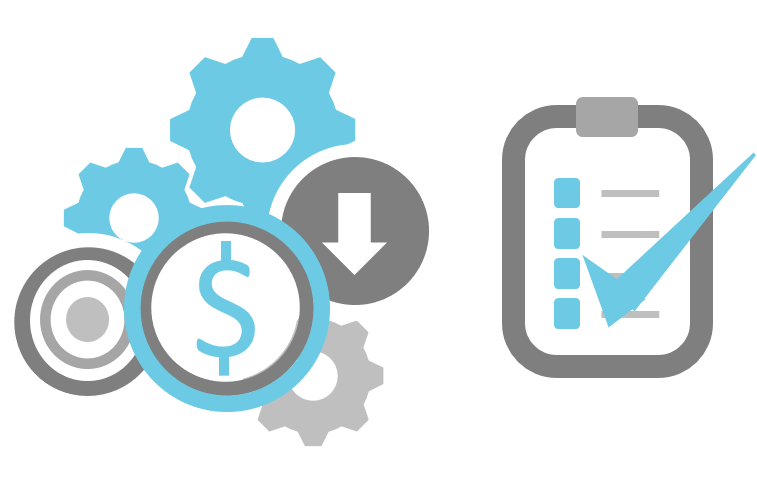 Reduce your Cloud Spend – Continuous Cost Remediation
Cloud Cost Management and Optimization capabilities to help you control cloud services related spending by monitoring, reporting and automatically optimizing Cloud resources. The Kumolus CMP focuses on monitoring cloud infrastructure usage, tracks spending as it relates to resource usage and uses policy driven workflows to reduce cost without manual intervention.
Continually optimizing Cloud Spend – no manual intervention!
Cost Optimization Dashboard
Quickly understand how you can drive Cloud Cost Optimization. Visualise and measure Reserved Instance benefits. Understand the benefits of removing unused services, idle Load Balancers, Elastic IPs, EC2 and RDS services. Quickly determine what resources need to be RightSized and how much spend you can save.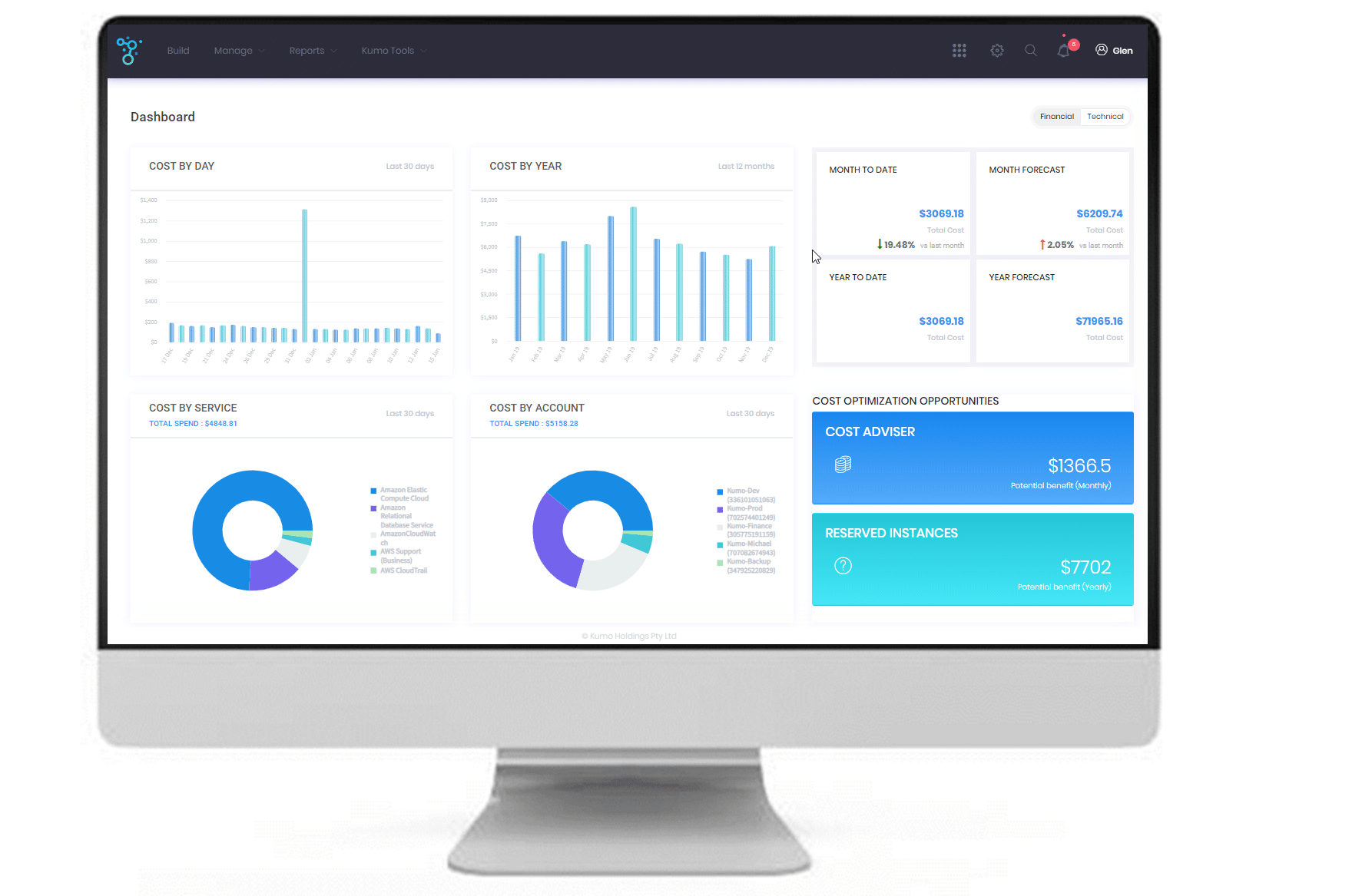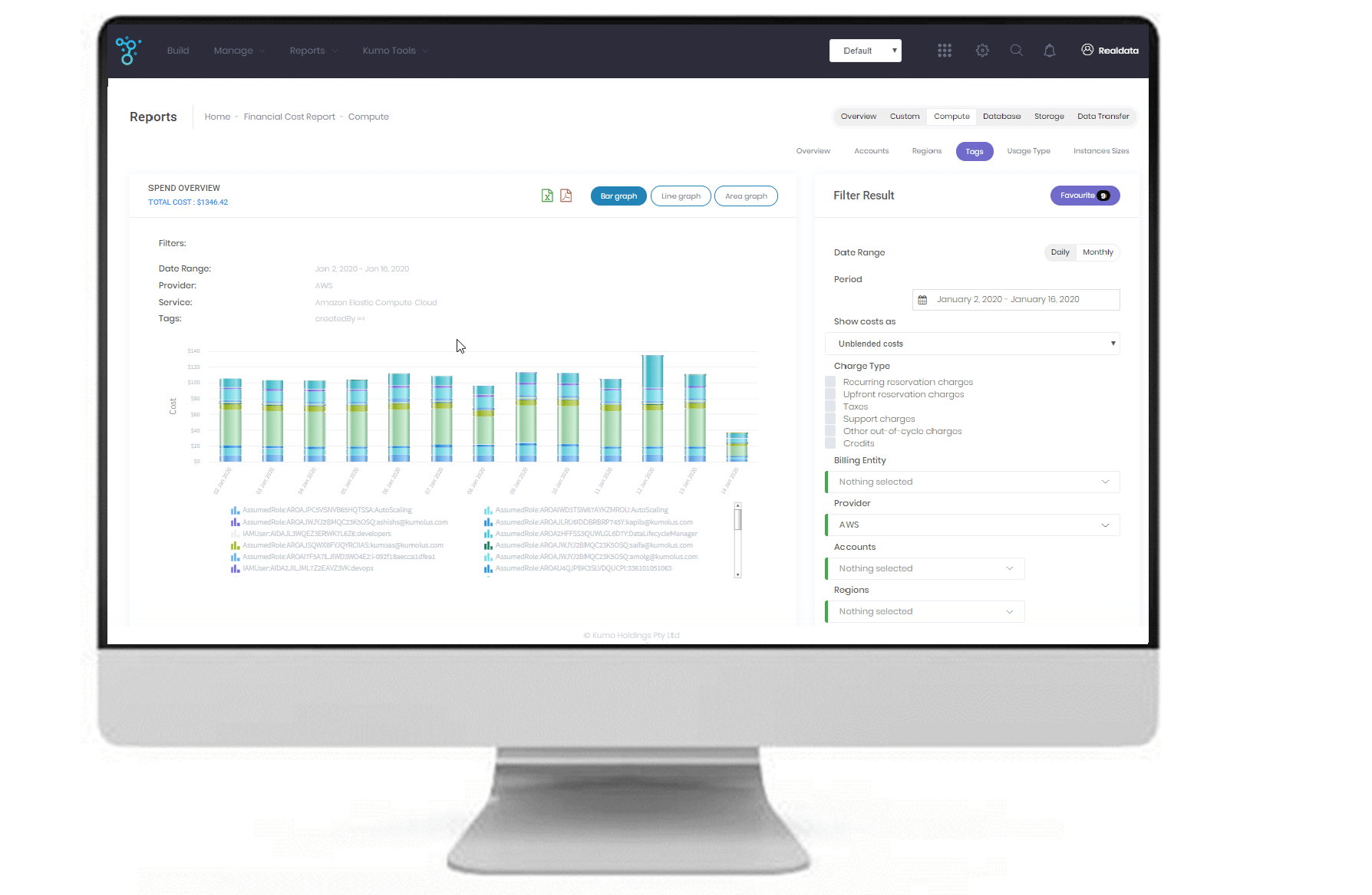 Detailed Cost Analytics
Drill down into any service type – EC2, RDS, Redshift, Storage, Data Transfer plus many others and the detail of that service – Service Name,  Service ID, Region, Tags the remediate the cost exposure. Immediate understand cost over-run by Cloud Service, Business Unit or DevOps team.
Remove Idle Cloud Services – reduce your AWS Cost!
Reduce Cloud cost by removing idle Cloud services using policy-based workflows. Identify services that are idle using tuneable Idle conditions by time / days and Connections/CPU utilization. Notify stakeholders via email and allow them to opt-out of service remediation workflow.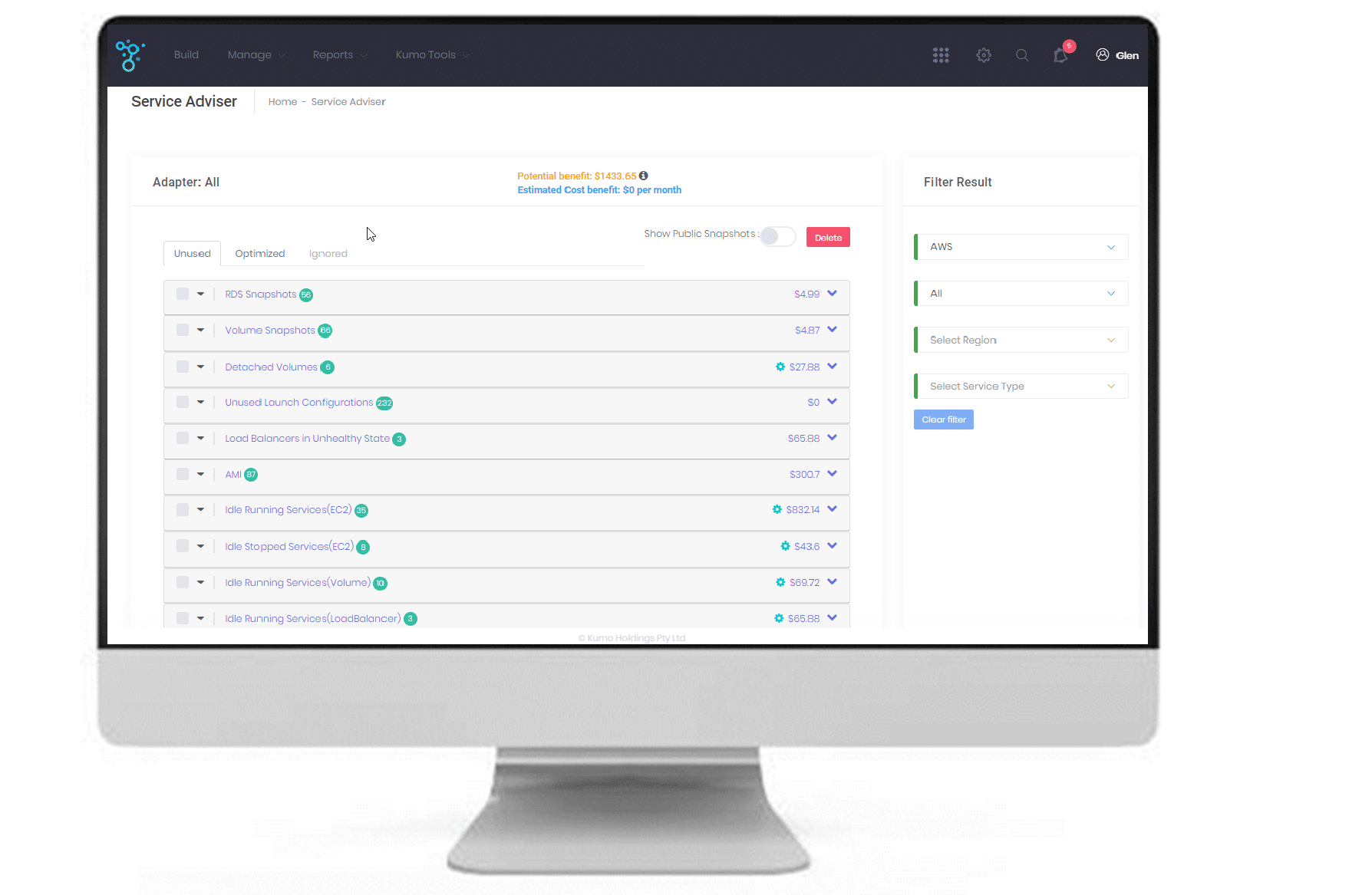 Instance Class Sizing Optimization – reduce your AWS bill!
Identify Instance Class savings as new technologies are introduced. Set-up policy-based workflows including backup, patching, run commands and any SOE configuration management to automatically optimize your EC2 instance classes. View all effected resources  and allow stakeholders to "Opt-out" from the policy-based workflow remediation process.
AWS EC2 and RDS Rightsizing – automate cost reduction!
Identify EC2 and RDS instances to be Rightsized using CPU, Network, Memory and Disk metrics. Set Instance Class family rules to ensure server alignment to source instance. Set-up policy based Rightsizing workflows including backup, patching, run commands and any SOE configuration management as you build the workflow. Easily view all effected resources as you Filter the services and importantly allow stakeholders to "Opt-out" automatically from the policy-based workflow process.
Reserved Instance (RI) Analytics – save up to 70% of your AWS EC2, RDS, Redshift, ElastiCache and ElasticSearch cost!
Remove the unnecessary analysis and guesswork from RI management. Understand the financial benefit and expiration status of any RI service. Automatically analyse your RI utilisation and determine underutilised RIs as well as RI conversion candidates with control points such as term, offering class and offering type.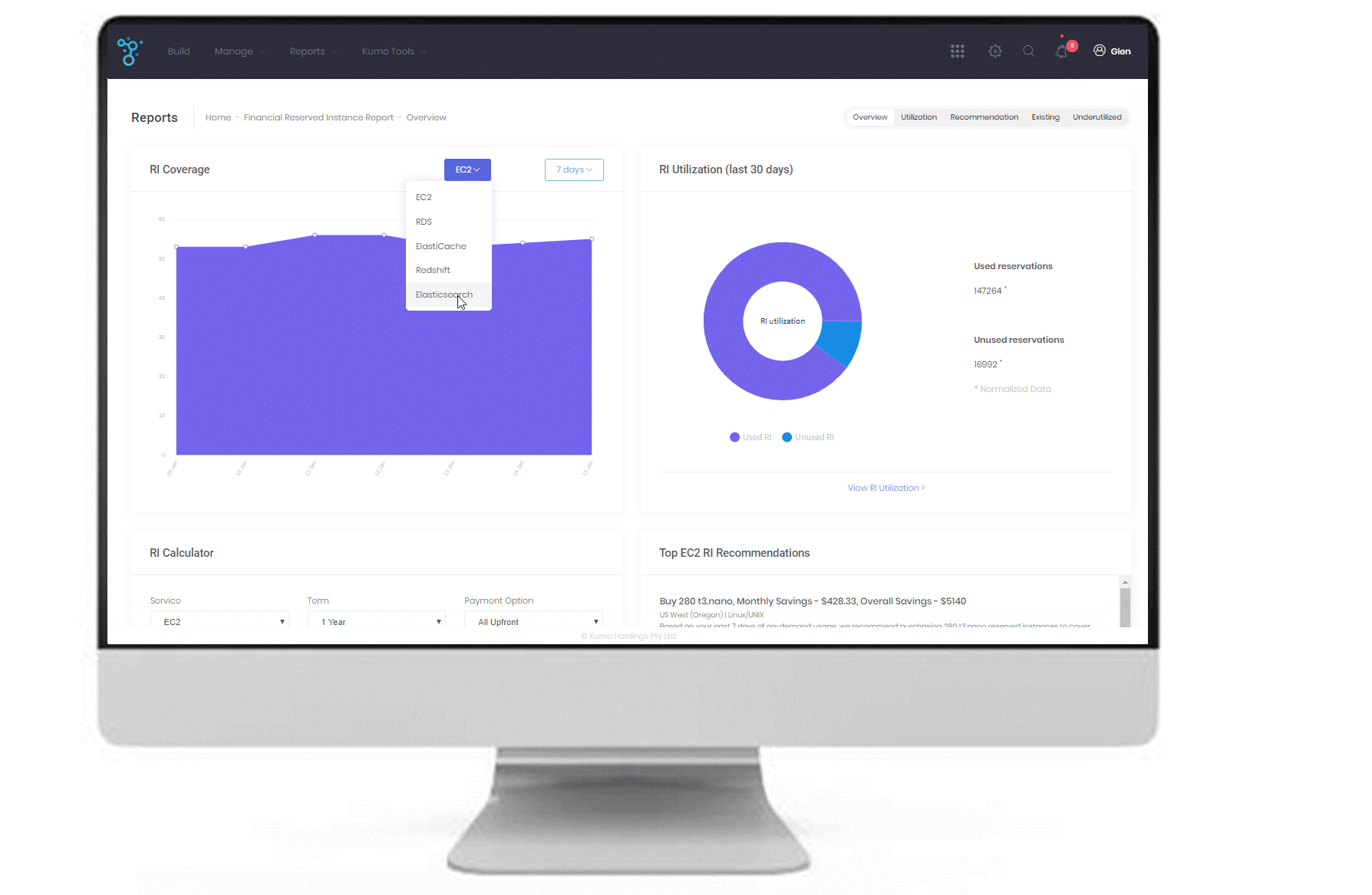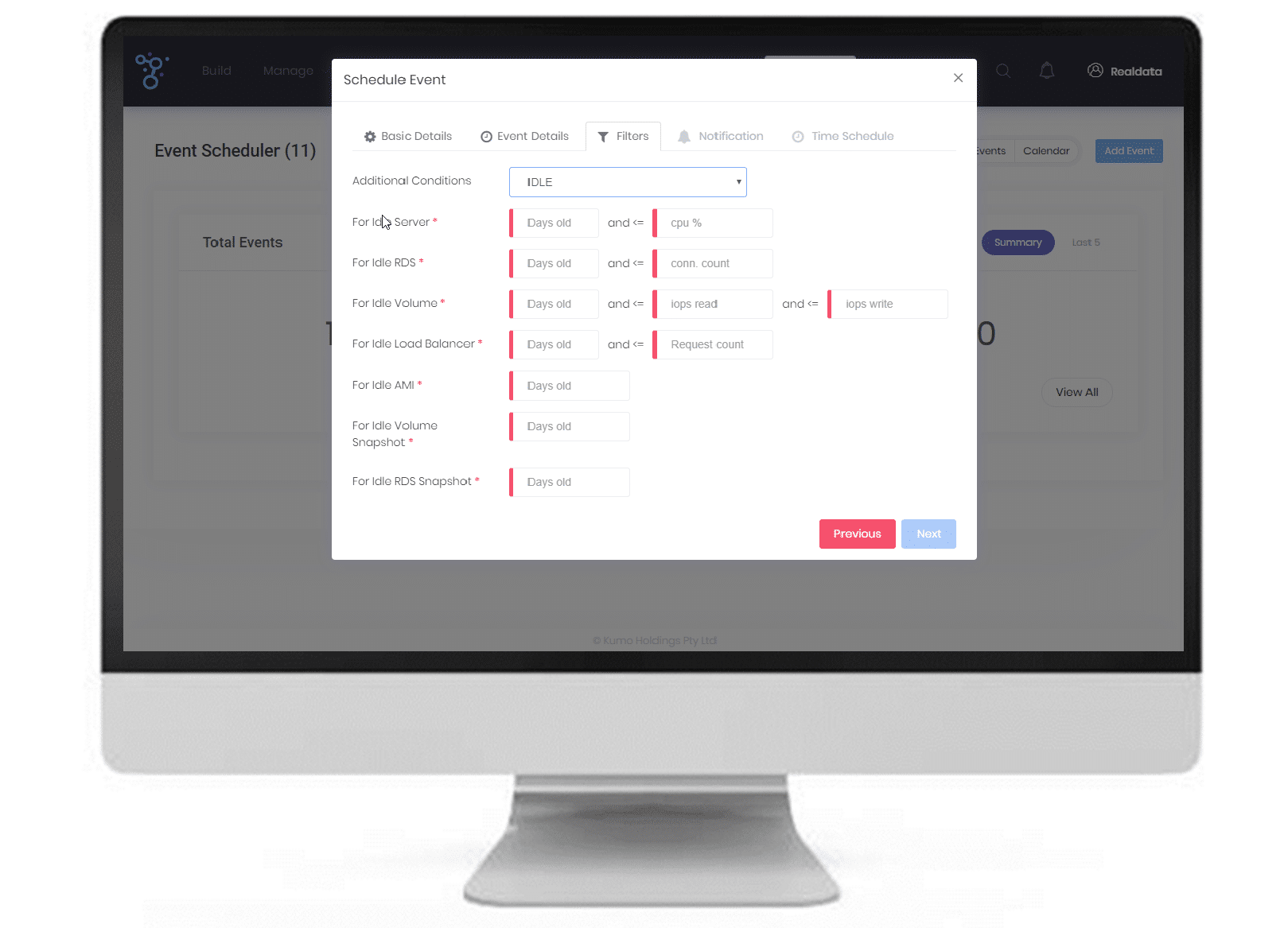 AWS EC2 / RDS Scheduling Automation
Automate scheduling of start, stop and termination of your EC2/RDS instances. Reduce your AWS costs by only running instances when required and take advantage of predictable usage patterns. Use conditions to automatically stop idle services.
Workflow Scheduling Automation – policy-based Cost Optimization
Kumolus has a highly configurable Cloud automation workflow engine. Discover, analyse, report and recommend service optimisation targets with measured benefits. Utilise these recommendations to drive scheduled events to continually optimise your AWS services.
Remove Resources with No Tags – drive "Best Practice"
Identify if services have been deployed with no tags. Automatically remove resources based on a policy-based schedules. Define how agressive you want to be getting the DevOps teams aligned to "Best Practice" approach.