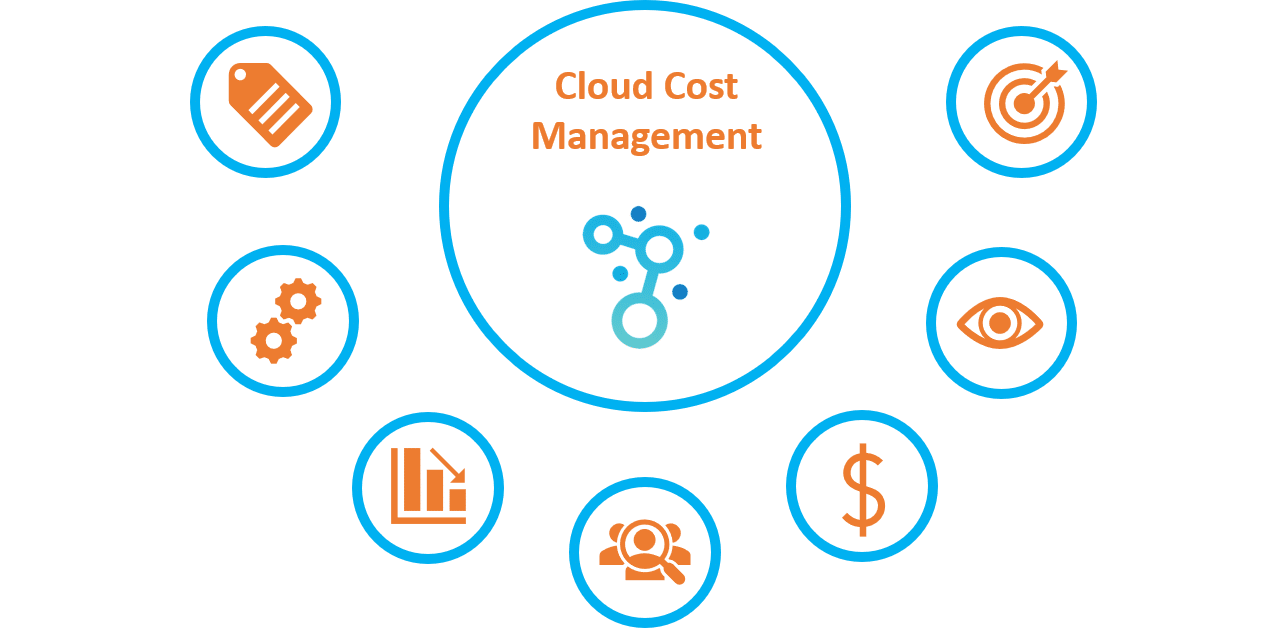 Monitor, Report, Manage and reduce Cloud Spend!
Kumolus Cloud Cost Management and Optimization capabilities help control cloud services-related spending by monitoring, reporting and automatically optimizing Cloud resources. The Kumolus CMP focuses on monitoring cloud infrastructure usage, tracks spending as it relates to resource usage and uses policy driven workflows to reduce cost without manual intervention.
Immediate visibility – highly configurable Cloud Cost Reporting
Optimization Dashboard – Immediate understand Cloud Efficiency
Quickly look at cost profiles with flexibility to break down your costs across the organisation as you need. Immediately understand what you need to remediate to drive cost down both commercially and with policy-based workflows. Whether supporting one or one hundred environments get a single view on what you need to identify for cost reduction.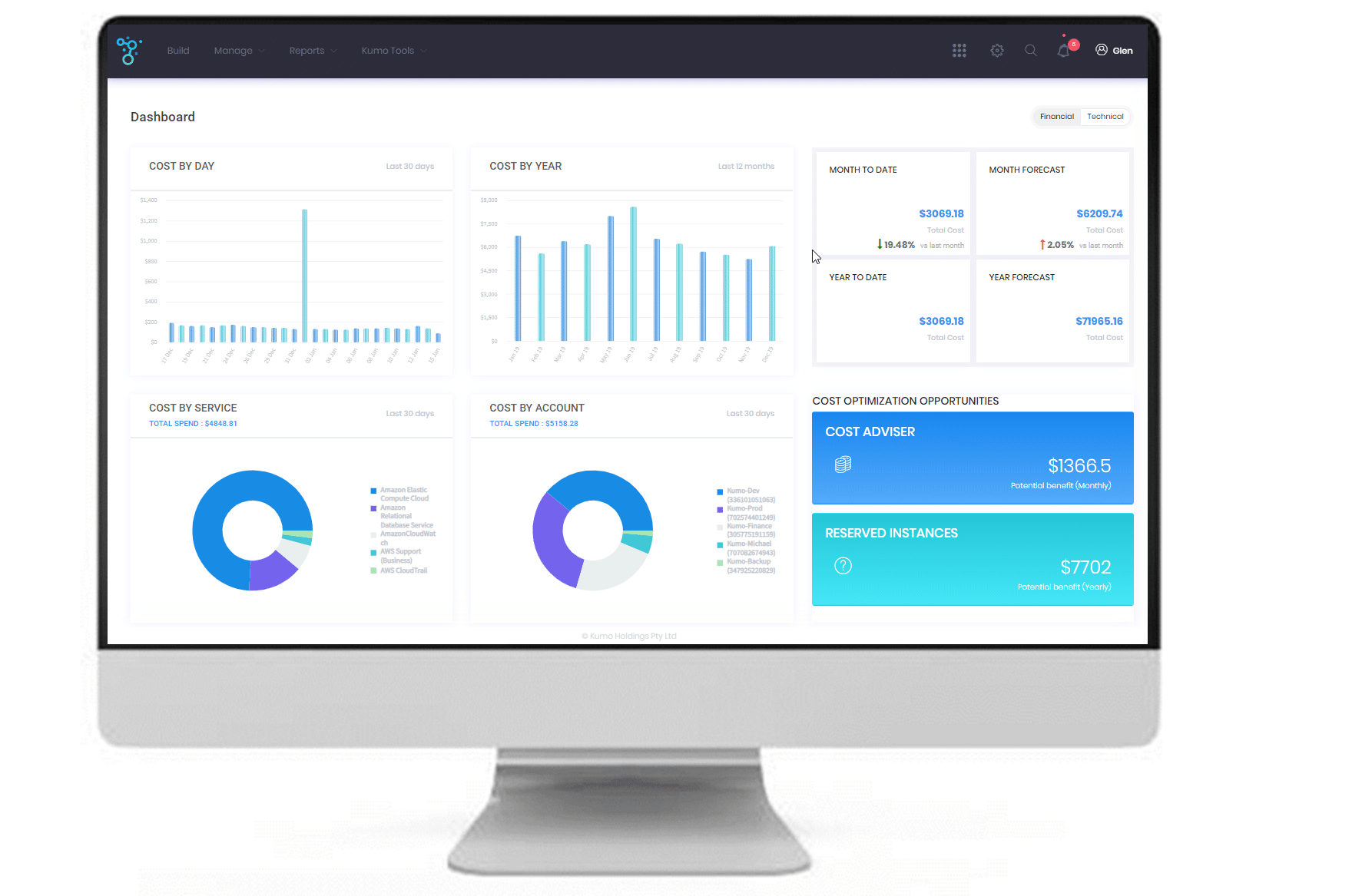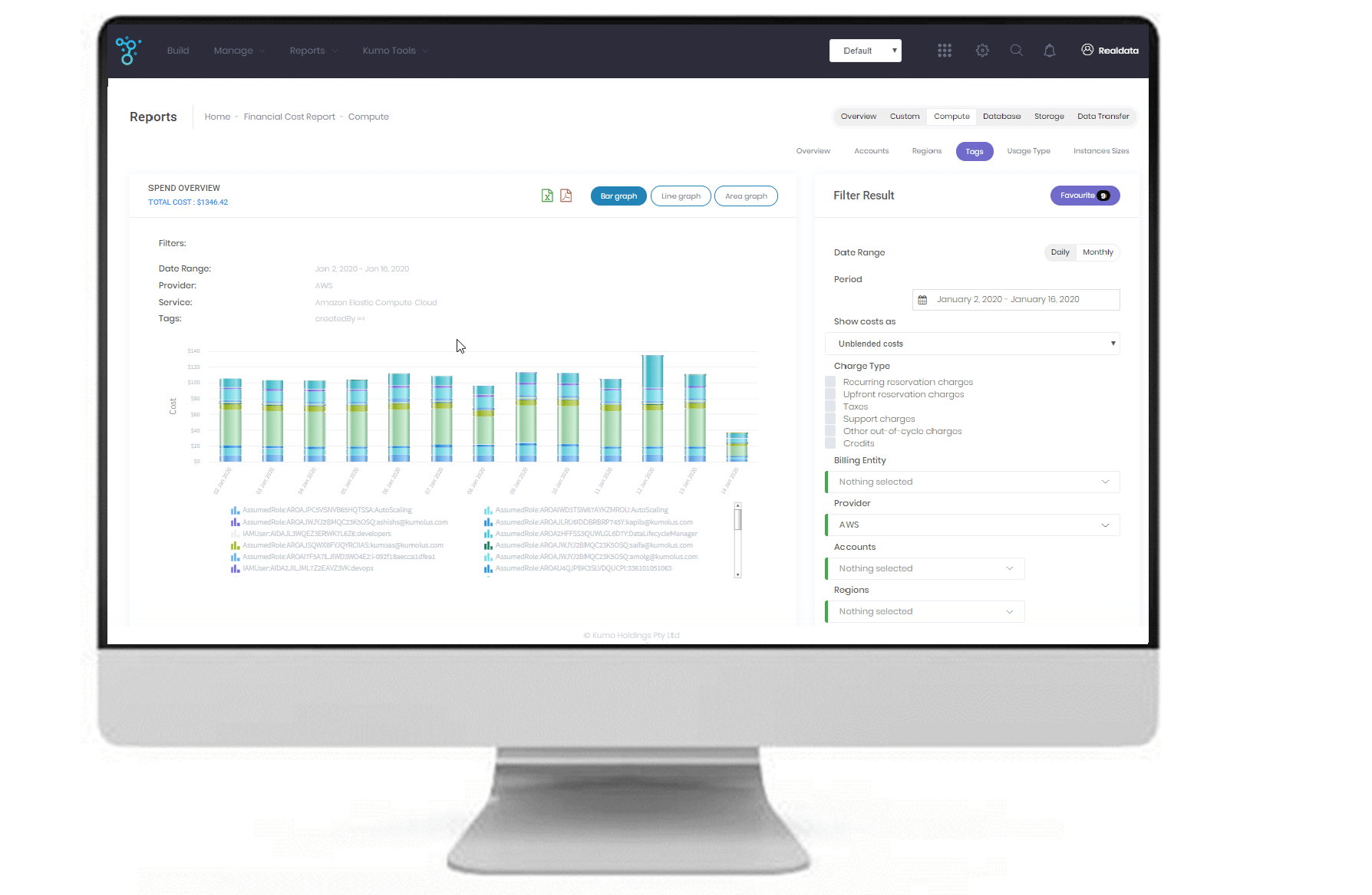 Effective Cloud Cost Reporting
Generate meaningful Cloud Cost reports in a few clicks. Powerful cost reporting is provided fully customizable and with default reports for Compute, Database, Storage, Data Transfer and then simply select Account, Region, Service, Tags, API Operations and more. Select graph type, save as a favourite and schedule report for delivery as a PDF or CSV.
Cost Reporting – Provide custom reports to your stakeholders
The reporting tool provides for the creation of reports by account, team, application, environment, service or tag. Save a report and schedule delivery to the appropriate stakeholder. Choose to show blended costs and excluded AWS Credits.
Cost Allocation – Allocate cloud costs to appropriate teams
Create custom reports for your stakeholders and business units. Set custom tagging rules, including mandatory rules on every cloud service. With this in place setup automated reporting by account, business unit, service owner, service as well as by different tagging formats. Using a rich custom reporting engine automatically distribute via email or in CSV format.
Cost Analytics – Forecast future spend!
Explore and analyse your billing & usage data to understand spending patterns, discover trends, forecast cost, identify budget overruns and highlight expenditure abnormalities. Share this cost & usage information with stakeholders so they have the insights necessary to adapt and manage their cloud usage accordingly.
Show-back and Billing Integration – enterprise integration!
Through custom tagging, every departments and team can be provided with visibility into their cloud usage allowing them to be responsible for their own costs. Easily expose API capability to integrate into Enterprise Billing systems and send customisable reports via email and / or .csv to Finance teams, Technology Managers and Executive resources.
Reserved Instance (RI) Analytics – realize significant savings!
Remove the unnecessary analysis and guesswork from RI management. Understand the financial benefit and expiration status of any RI service. Automatically analyse your RI utilisation and determine underutilised RIs as well as RI conversion candidates with control points such as term, offering class and offering type.
Automate Daily Finance Reporting
Understand your Cloud costs by getting a Financial Summary report each day. Quickly view Daily Spend, Daily Run Rate, Month Spend to date, Monthly Forecasts, Cloud Cost Efficiency, Reserved Instance savings, Resizable, Unused and Idle Resources and change rate metrics. Customize views by any number of filters, visualize spend and anaylze anomolies.
Full product – 30 Days – NO Credit Card Required