Integrated and automating the most complex Cloud network deployments
Network is the centre piece of the Kumolus product. Unlike any other CMP on the market we can visualise, translate and move any running network in the Cloud across Account, region and / or Cloud provider.
Kumolus an API-first Cloud Management Platform (CMP)
Kumolus API-first strategy is one where the API serves as both "Infrastructure as Code" representing patterns for enterprise IT architecture as well and most importantly to deliver API services that puts your developer's interests first – delivering "the product" be it an SAP system, website, or mobile application.
Kumolus Platform Architecture
Fully Orchestrated Multi-Cloud and Network Fabric Management integrated into complex RBAC environments for granular DevOps team enablement with automatically enforced security compliance and cost management.
Front-end Access
Unified Web UI
Programmable API
Authentication and RBAC
Features and Functions

Cloud Discovery and Sync

Template Pattern Builder

Environment Provisioning Control

Events
Scheduler

Object Tagging Automation

Policy
Automation

SOE
Management

Access
Management

Cost Optimisation Automation

Security Compliance Automation
Network and Cloud Fabric Orchestration
Data, Resource and Authentication Model
User and Group Access Control
Environment and Pattern Variables
Extensible Adpaters and Plug-ins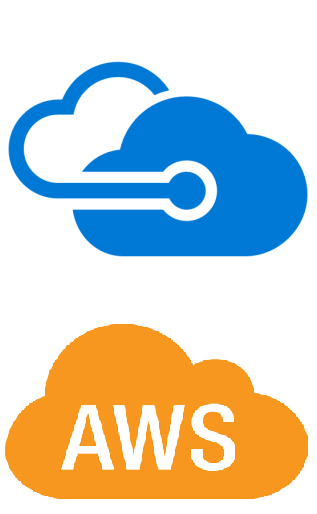 Cloud Resources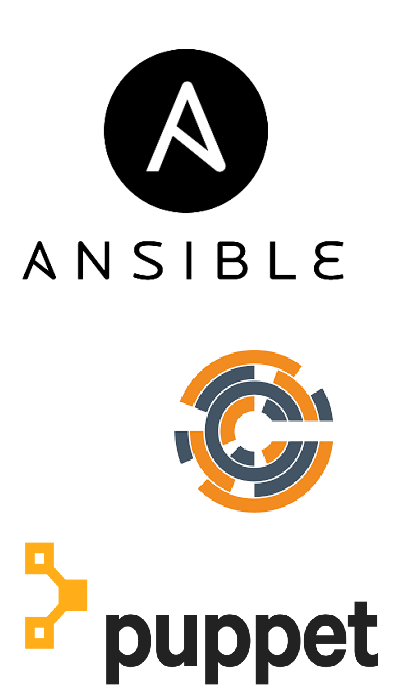 Configuration Management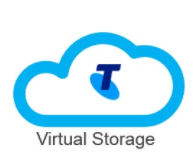 Telstra Virtual Storage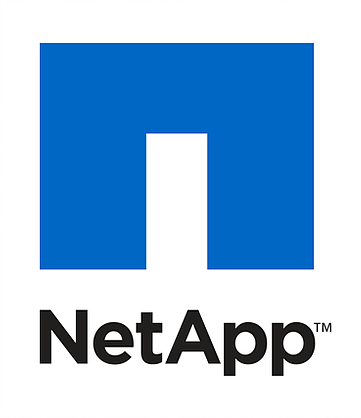 NetApp Adapter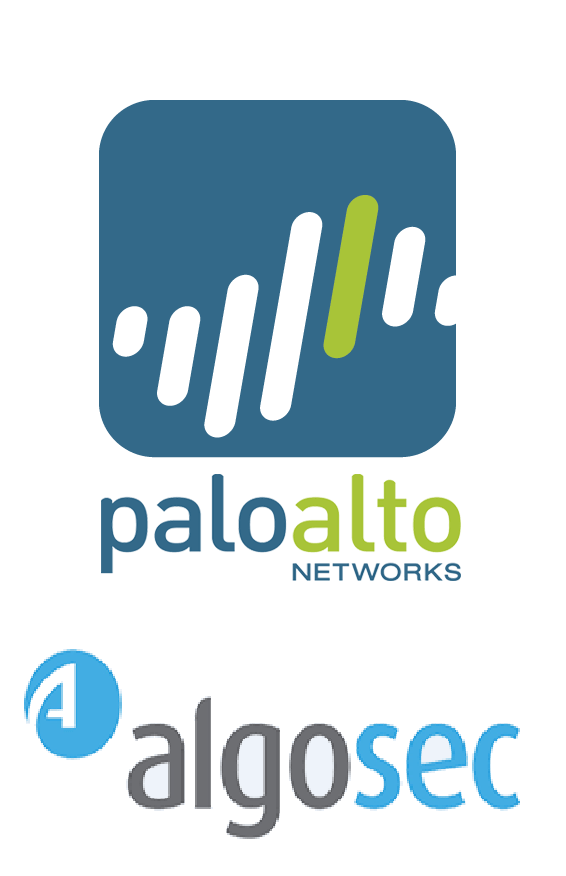 Security Adapter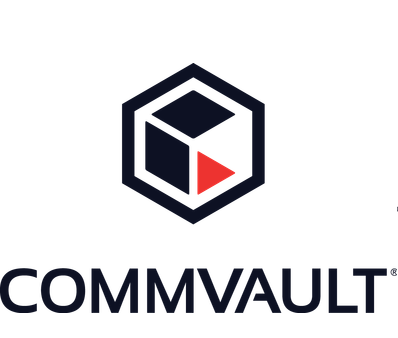 CommVault Agent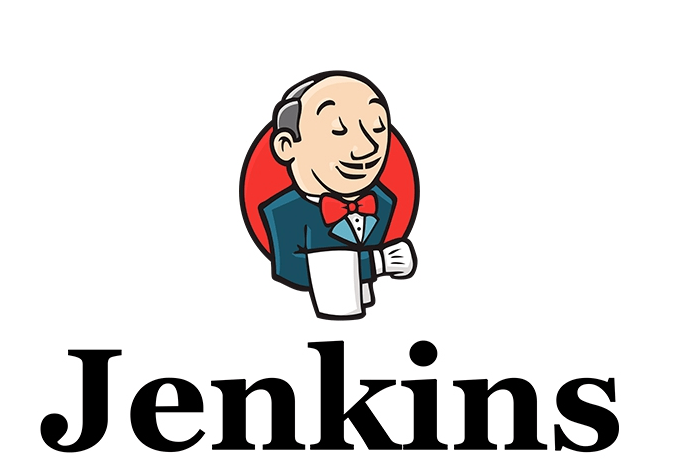 Continuous Delivery

Operations
Kumolus is an API-first network centric Cloud Management solution and stands alone in the Enterprise Cloud Management product space as the only product focused on automating both the Cloud objects and the Network fabric that are the foundation of any complex application landscape.
Cloud and Network Orchestration
Kumolus provides a foundation to diagrammatically develop complex cloud template patterns and coordinate multiple automated activities to streamline Cloud delivery with assurance and without fear of cost blowout. Utilising granular cloud and network object revision control Kumolus delivers a powerful "Infrastructure as Code" solution for Cloud and DevOps teams ultimately resulting in a consolidated process or workflows for the organisation.
Visually Design and Build your Cloud Environments
Building a cloud environment involves many steps, including documenting system designs, setting up networks, selecting and sizing compute and database resources, assigning storage, defining access permissions, and understanding the cost. Through the Kumolus CMP, you can design environments based on a standardised set of cloud resources, review the forecast costs and then when ready press provision; within minutes you will have an operating environment running with your cloud provider.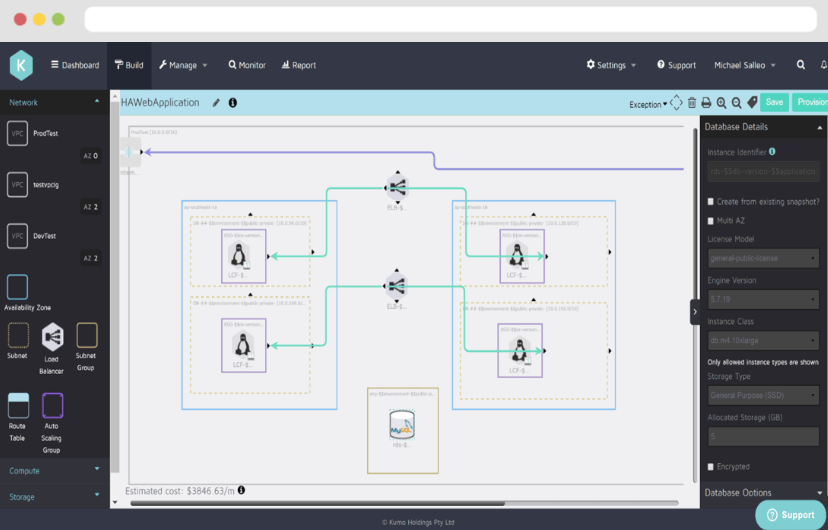 Infrastructure as Code for DevOps
Version control is the foundation of the entire DevOps delivery process and Kumolus delivers granular versioning of complex Cloud and network applications landscapes acting as the single source truth for infrastructure "as code" within the delivery tool chain. Kumolus provides powerful Tagging capabilities for new and existing "brown fields" environments to enable your teams to manage revision of complex application assets flowing into a release workflow.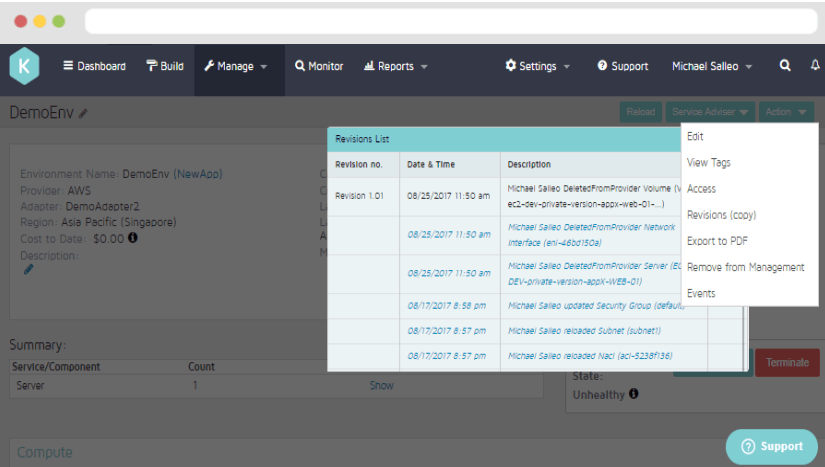 Network Translation Automation
Understanding the Cloud Network Fabric that underpins a complex application is a core strength of the Kumolus platform. Dynamically visualise your Cloud network fabric including VPC, VNET, NIC, Route table, Security Group and every detail associated with your full application stack. Within minutes Kumolus allows you to template the application and dynamically translate the full Application network stack to a new Account, to a new Region, promote through the DevOps life-cycle and / or to a new Cloud provider.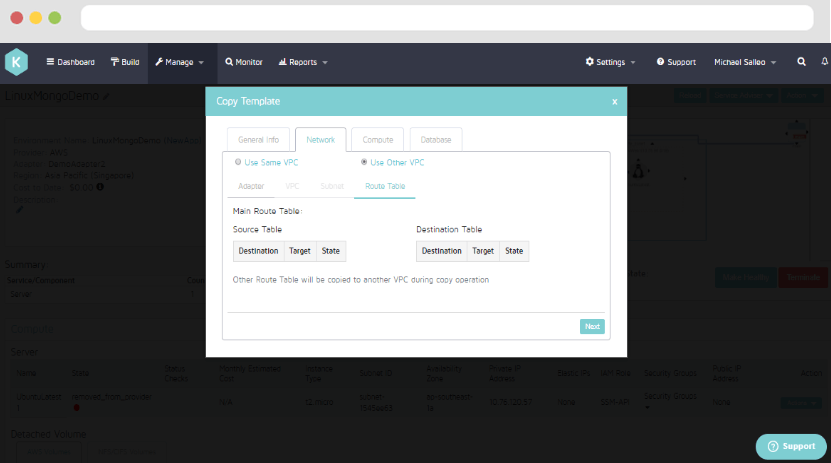 Multi Cloud Management
Easily map your applications and workloads to AWS or Azure by Region, by VNET or VPC, Auto sync or set synchronisation schedules. Enable your teams to deploy on the right Cloud provider at the right time or automatically change provider based on requirement.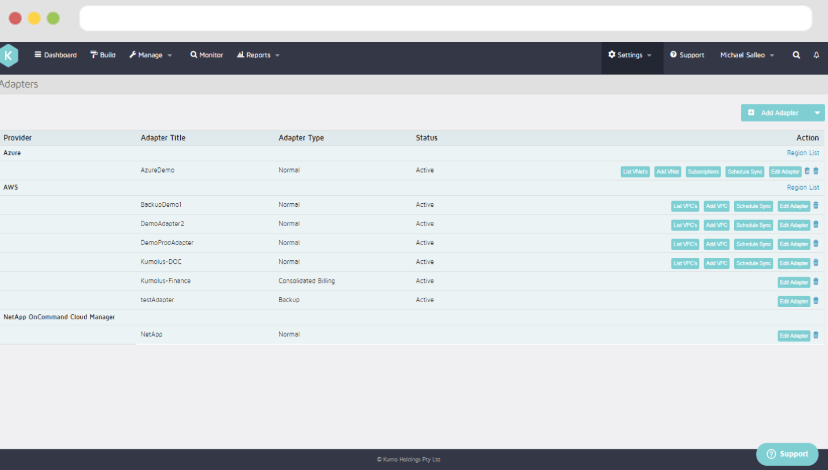 Real-time Self Documenting – Always up to date
With the agility of cloud comes the ability for rapid change; static IT environment diagrams and 'as built' documentation are no longer adequate. The Kumolus discovery engine provides a 'real-time' up to date view of your IT environments and service configurations exportable as PDF or automatically injected into Change Management systems.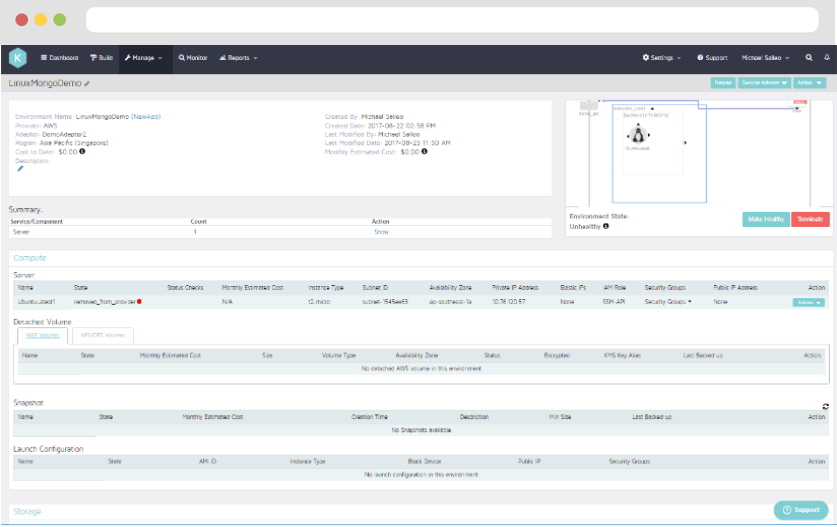 NetApp – OnCommand Cloud Manager full stack Orchestration
Perform full stack orchestration and automation with NetApp NPS or ONTAP Cloud NFS, CIFS and iSCSI storage. This allows users to orchestrate the provision of NPS or ONTAP Cloud Storage on AWS or Azure via the Kumolus 'drag & drop' or API platform interfaces.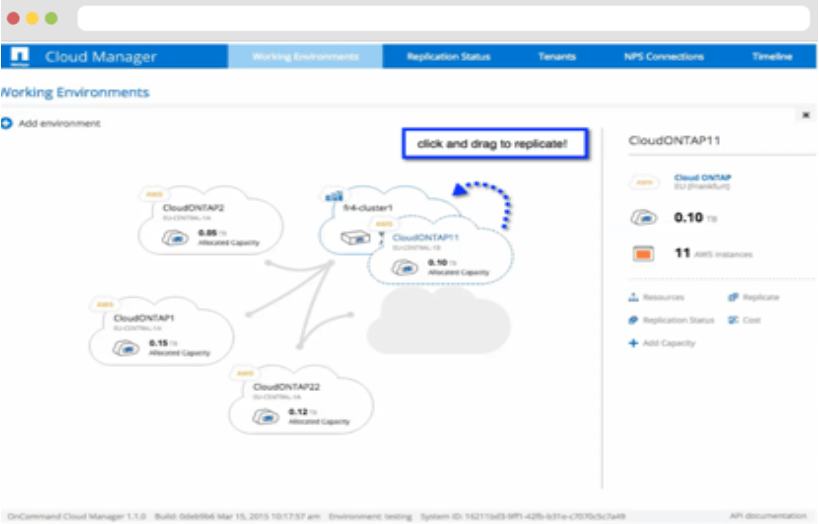 Multi-Cloud Cost Analytics and Optimisation
Explore and analyse your billing & usage data to understand spending patterns, discover trends, identify budget overruns and highlight expenditure abnormalities. Share this cost & usage information with stakeholders so they have the insight necessary to adapt and manage their cloud usage accordingly.
Optimisation Dashboard
Whether supporting one or one hundred environments, Kumolus allows you the flexibility to break down your costs across the organisation as you need. The reporting tool provides for the creation of reports by account, team, application, environments or even down to identification of the highest cost service in your environment.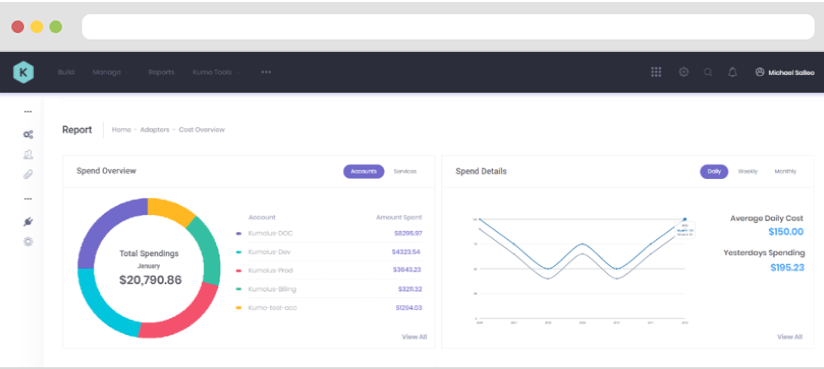 Multi-Cloud Cost Optimisation
Utilise Kumolus Service Advisor to identify unnecessary costs across your multi-cloud environments and quickly put a lense on the areas for review and remediation. Immediately reduce cost by decommissioning unconnected or underutilised services.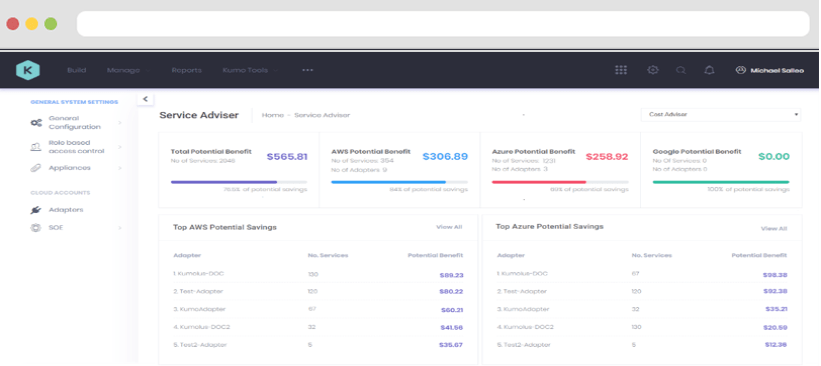 Reserved Instance (RI) Analytics
Remove the unnecessary analysis and guesswork from RI management. Understand the financial benefit and expiration status of any RI service. Automatically analyse your RI utilisation and determine underutilised RIs as well as RI conversion candidates with control points such as term, offering class and offering type.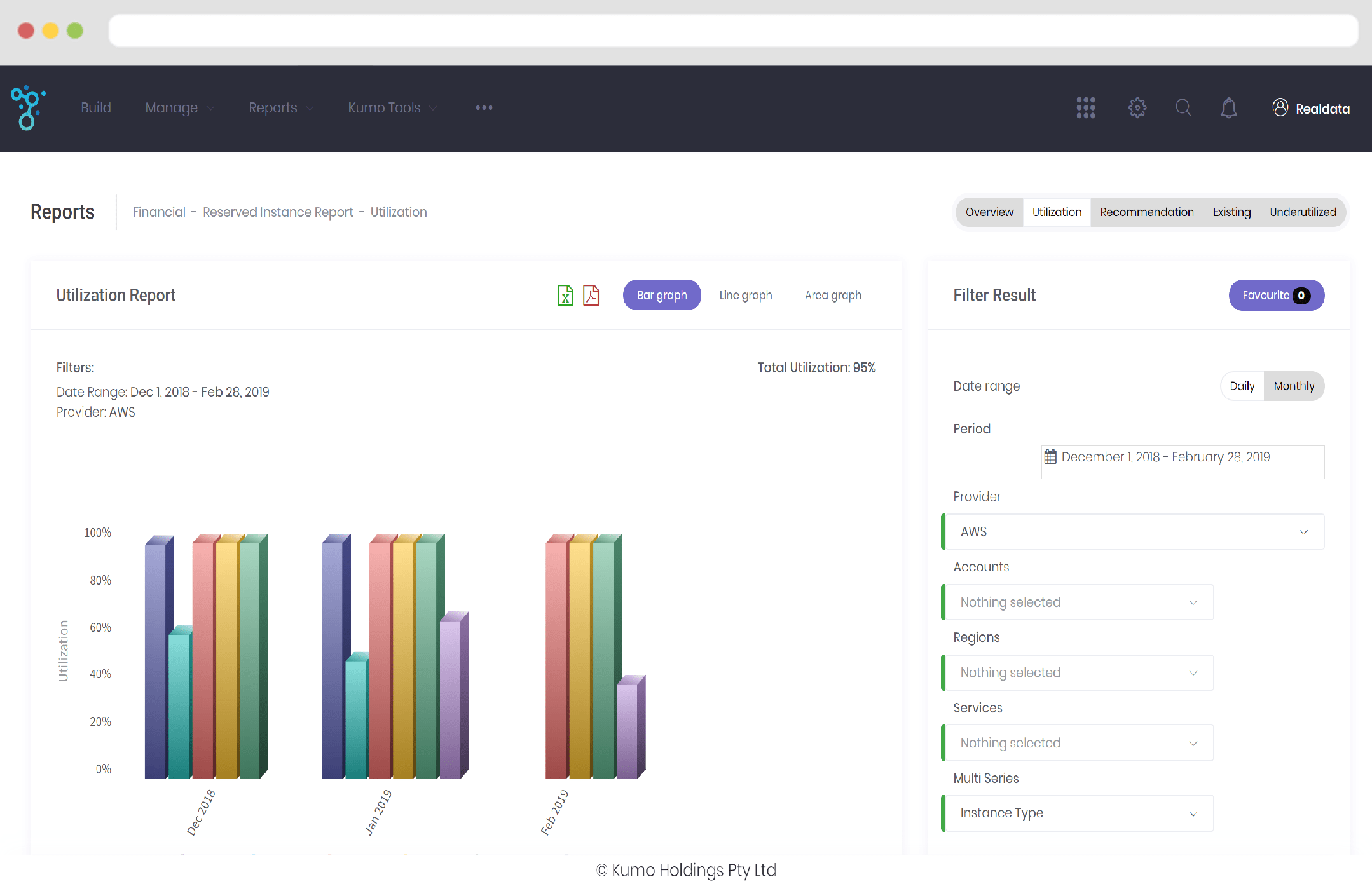 Dynamic Cost Control
Dynamically understand the cost of the template, environment or application you are building with real time cost update as you add AMI, Route, Subnet, EBS and other services. Restrict environment deployment by role and / or group based on budget allowance.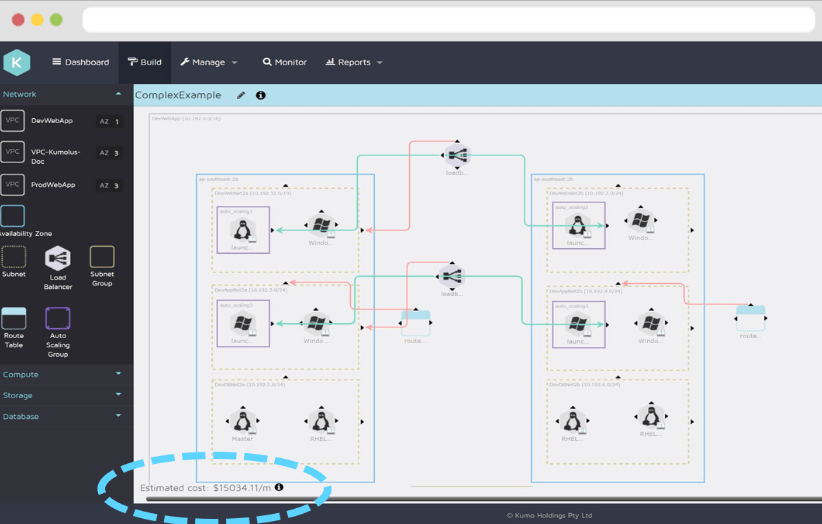 Showback and Billing Integration
Through custom tagging, every departments and team can be provided with visibility into their cloud usage allowing them to be responsible for their own costs. Easily expose API capability to integrate into Enterprise Billing systems and send customisable reports vias email and / or .csv to Finance teams, Technology Managers and Executive resources.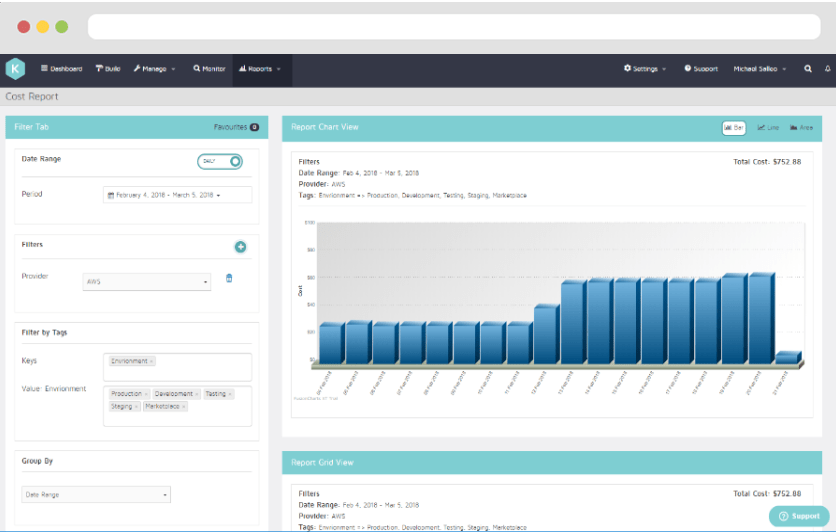 Detailed Cost Analysis
Drill down into the type of service RDS volumes, AMIs, Launch configurations plus many others and the detail of that service – Service Name,  Service ID, Region, Tags the remediate the cost exposure. Immediate understand cost over-run by Cloud Service, Business Unit or DevOps team.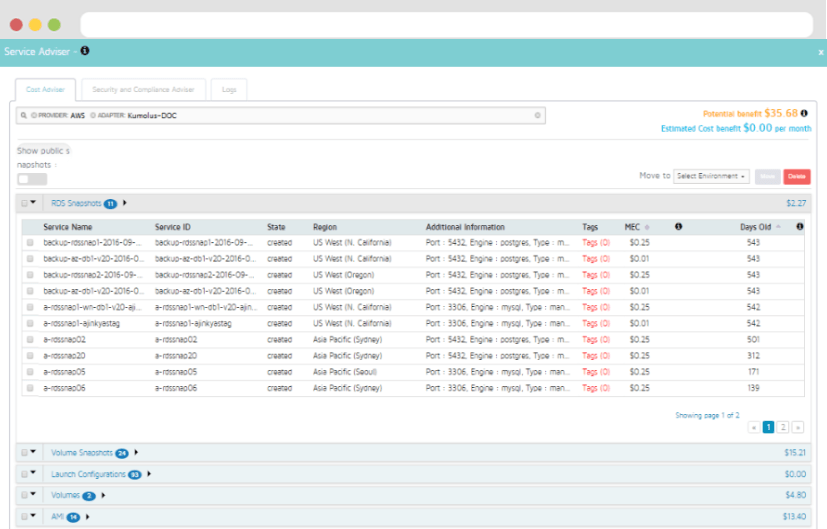 Enterprise Governance and Security Compliance
Every organisation is challenged by the question of "how do we balance governance and control with the need to provide users the self-service agility and flexibility that cloud IT provides?" The Kumolus platform allows you to implement 'fine-grain' access controls across the user community to achieve the governance and control you need.
Global Security Dashboard
Visualise existing security posture, understand the risk level and remediate the threats based on automated recommendations. Enforce on-going security posture utilising Kumolus comprehensive pattern control automation capability and continuously validate for non-compliance.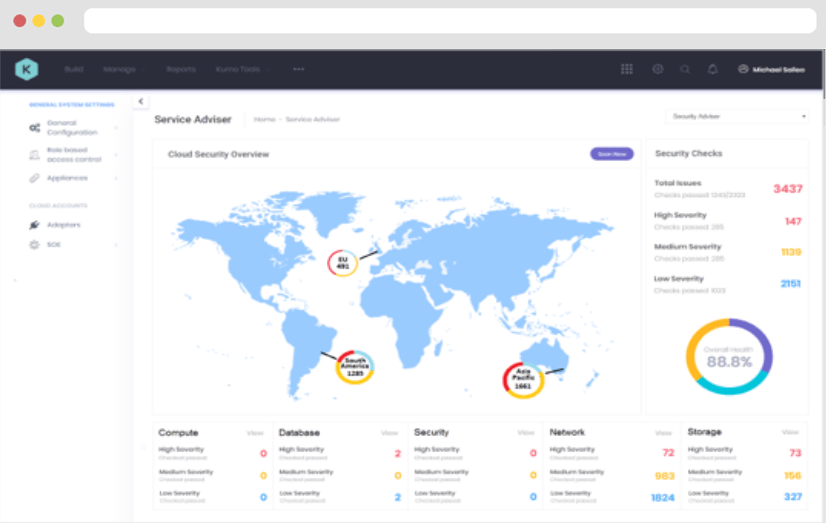 Identify Security Vulnerabilities and Remediate
Identify, classify and re-mediate potential security risks and exposures via our detailed drill through dashboard. Automate security validation against ASGs, EBS volumes, EBS, ELB, IAM, KBS and many more services. Enforce security posture via template patterning and continuously identify anomalies within your Cloud security perimeter.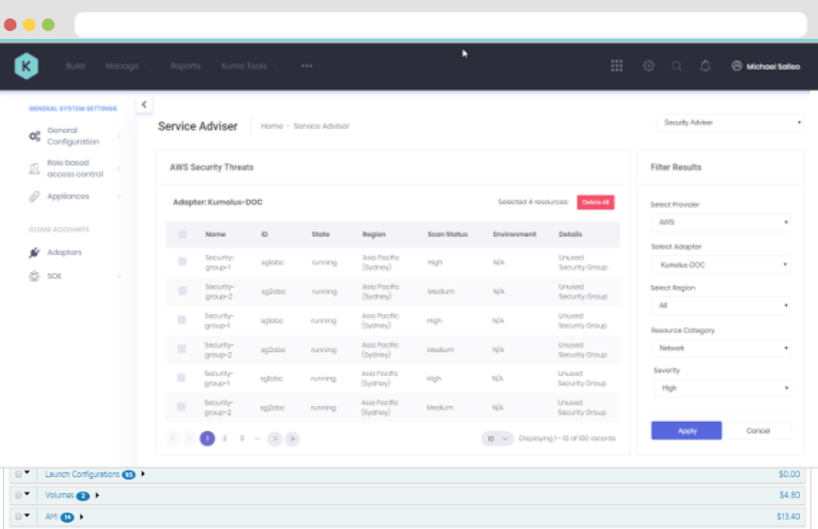 SOE Management
Kumolus enables SOE control of AMIs and services to assist in the reduction of cost and time taken to deploy, configure, maintain, support and manage Cloud environments.  Kumolus SOE foundation creates a repeatable known, expected and supportable environment whilst fostering speed via increases automation and reduced change management.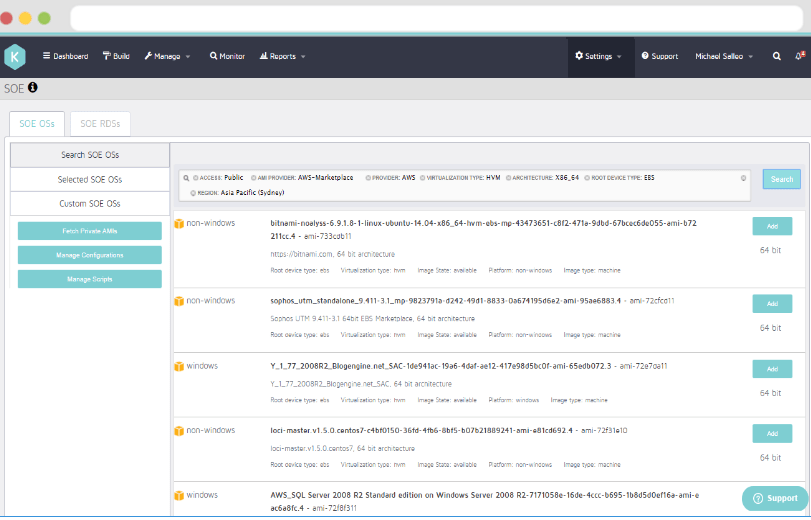 Single Sign-on and Access Management
We understand that organisations are continuously changing and a one size fits all approach is not appropriate. Kumolus integrates seamlessly into Enterprise SSO systems extended this to allow multiple diverse access control for individuals in the Cloud and interreleted teams such as a single Developer associated with multiple Agile projects.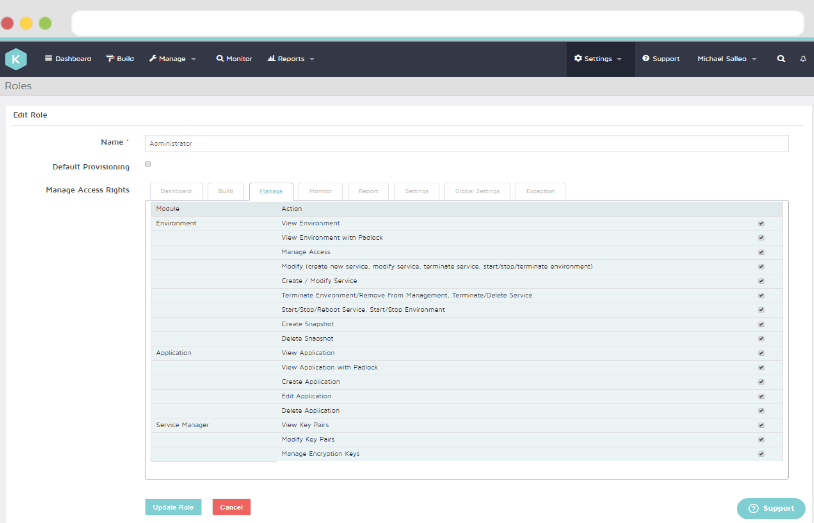 Asset Tracking Automation
Kumolus allows you to set custom tagging rules, including mandatory rules on every cloud object within the environment. Whether it is a operationally triggered snapshot or a security group added as part of a security change, Kumolus custom tagging ensures these movements can be tracked.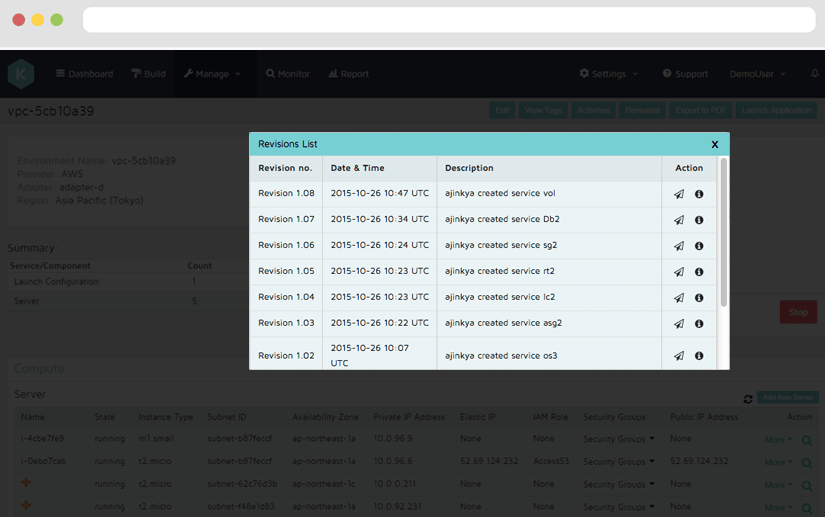 Audit Tracking – know your environment changes
According to Gartner, up to 80% of system outages are due to unplanned changes within the IT environment. Kumolus allows for the continuous monitoring, recordingand roll-back of environment changes to allow easy identification of incidents and more importantly faster resolution.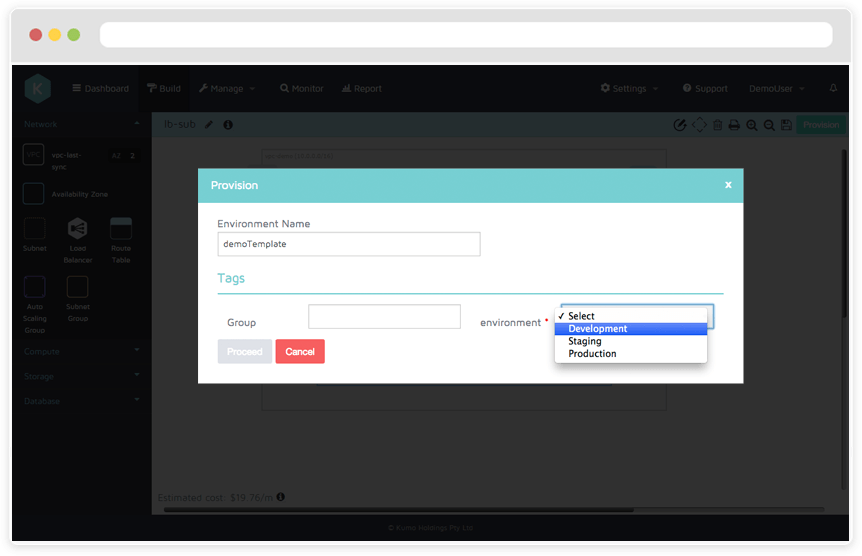 Automate your security policies
Kumolus provides a consistent and centralised way to provision, apply and automate security services to deliver policy based control and visibility across your cloud resources.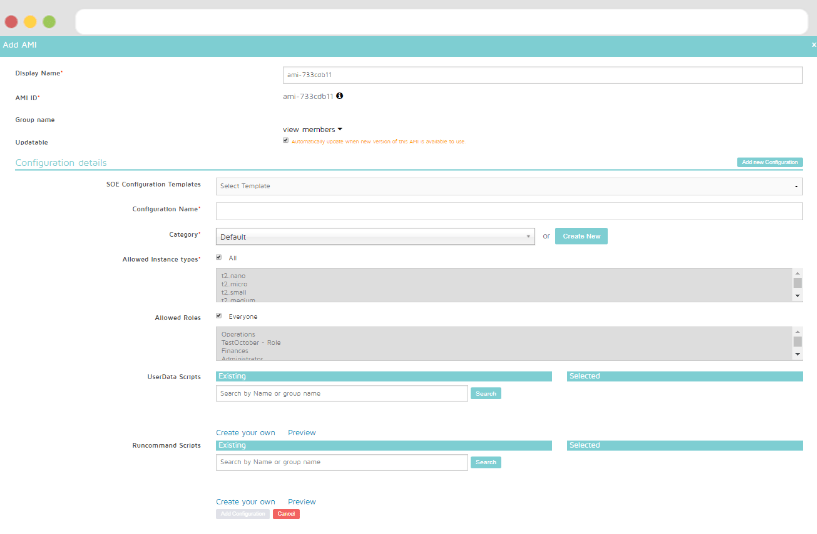 Limit technology sprawl
The ability to provision cloud services needs to be managed or you risk technology proliferation and spiralling costs. Kumolus allows you to set rules around what different groups and / or individuals in your organisation can do. For example, using the Kumolus Role Based Access Control functionality would allow you to limit a development team to only provision current Linux based instances with a certain size PostgreSQL databases and in a specific private network.