Automating AWS Customer Success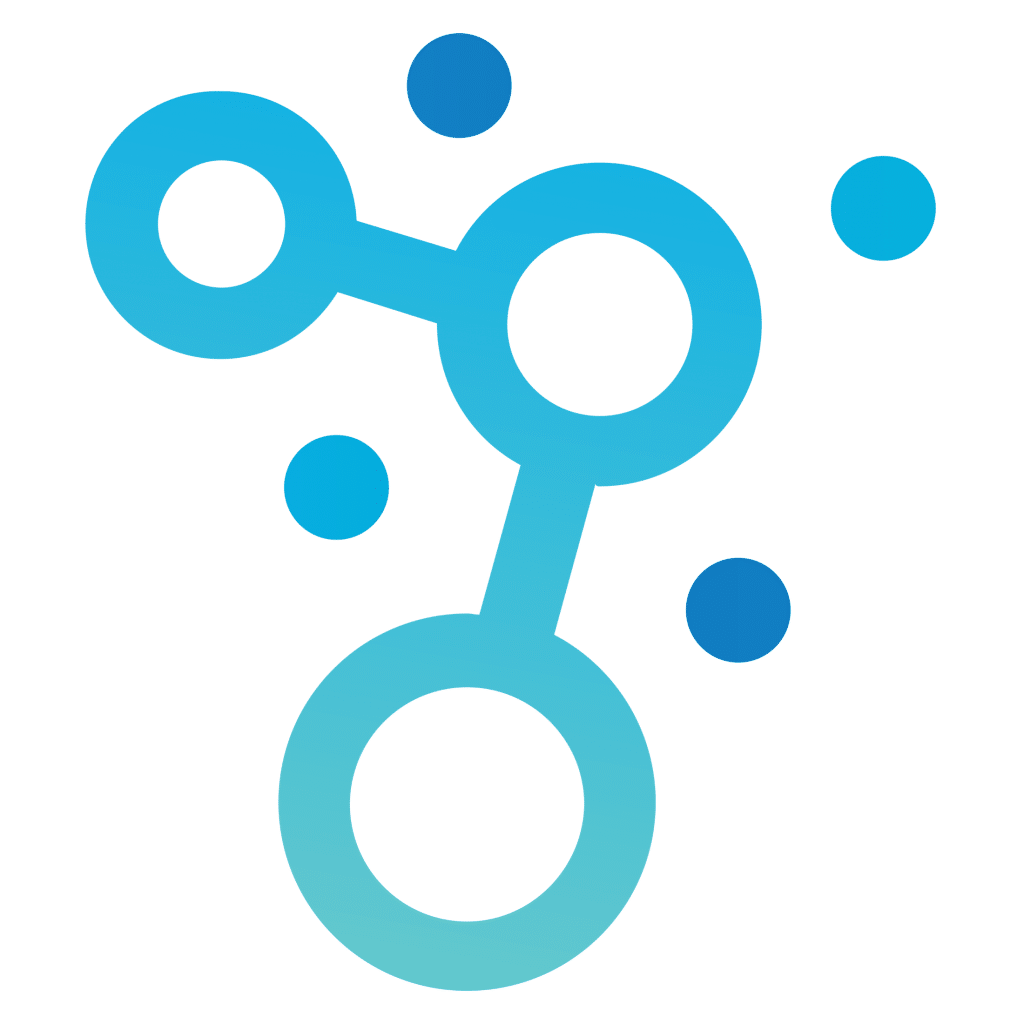 Kumolus AWS Customer Success
On-boarding Plan
Ensuring your success is our absolute obsession and driving AWS Customer Success is our passion.
Kumolus and its partners provide a comprehensive on-boarding program during the initial 3 months of utilising the platform. We have learnt and developed a structured approach based on our experience with many customer deployments that we leverage to provide a framework to ensure a good outcome for you.
Our approach uses a balance of training, planning, hand's on configuration, implementation and service optimization assistance that we will align with your Success metrics. We will work with you to understand what "Success" means to you and your organisation.
The Customer Success Plan will be customized based on what you think is important, communicated and executed against — so we can deliver on those expectations.
Each customer will be assigned a Technical Account Manager (TAM) to ensure that the on-boarding plan is followed, and AWS customer success is realized. Post on-boarding the TAM will be responsible for regular Service Optimization reporting to key customer stakeholders and ensure that any outstanding and / or new value add capabilities are implemented.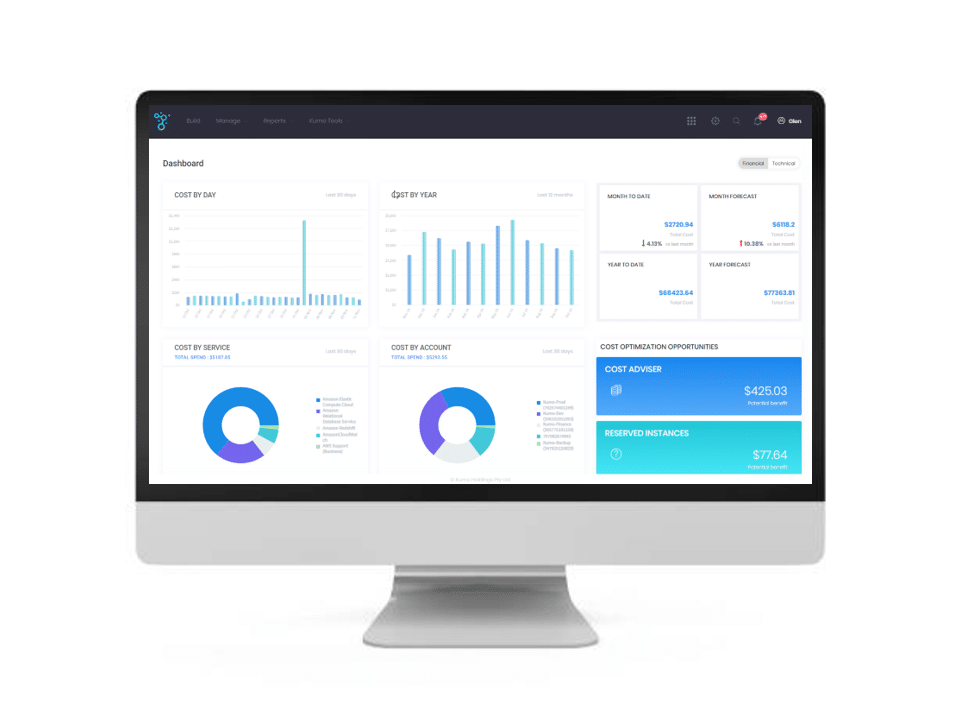 Kumolus Cloud Financial Dashboard
Customer Responsibilities
Success requires commitment from the Kumolus team and your team. You will need to identify an Executive Sponsor, a Kumolus Cloud Lead and a Customer Technical Lead from within your organisation to champion and drive platform integration, implementation, optimization and automation functions.
Key Kumolus Resources
Account Executive (AE)
Technical Account Manager (TAM)
Training Manager (TM)
Customer Support Engineer (CSE)
KEY CUSTOMER RESOURCES
| | | |
| --- | --- | --- |
| Executive Sponsor | Kumolus Cloud Lead | Cloud Engineer |
| The Executive sponsor will be a senior member of staff who is responsible to the business to ensure delivery of business case outcomes and will advocate on behalf of team to drive success of the project. | The customer Kumolus Cloud Lead is responsible for project delivery and oversee ecosystem integration, configuration, security requirements, governance, optimization, automation, reporting and transition to operations. | The Cloud Engineer is responsible for the operations, integration and configuration of the Kumolus platform. Ultimately this resource will be the Kumolus product specialist with your organisation. |
The services described in this document are for customers who have committed to the On-boarding Customer Success Planning engagement. Further services may be requested from Kumolus and / or our Partners for other requirements such as ITSM, CI/CD integration, Enterprise Backup, APM, WAF, VAPT, Monitoring, End-point Security and Change Management automation.
Please speak to your Kumolus representative for further discussion on additional Professional Services requirements.
HIGH LEVEL METHODOLOGY
Planning

Installation
Configuration
Operation

Automation

Kick-off Meeting
Business Case Review
Integration Review:
Configuration Management
Change Management
Security
Orchestration
Training Req.

SAML Setup
Account (Adapter) Setup
RBAC Setup
Brown- fields Discovery
Visualization
Basic Provisioning – Network, Compute, DB & Storage
Training (Basic)

Service Manager
Provisioning / Service Design
Patterns & Templates
SOE Management
Naming & Tagging
Backup Preferences
Tenants Setup
Reporting
Training (Basic)

Applications & environments
Compliance
Reserved Instance Management
Event Reporting
Cost Advisor
Advanced Workflow Orchestration
Custom Reporting
Report Automation
Backup Events
Training (Adv)

Workflow / Event Automation
Opt-In/Out Workflows
Service Selection
Condition Management
Utilising Tags for Policy automation
Start / Stop
Terminate
RightSizing
Training (Adv)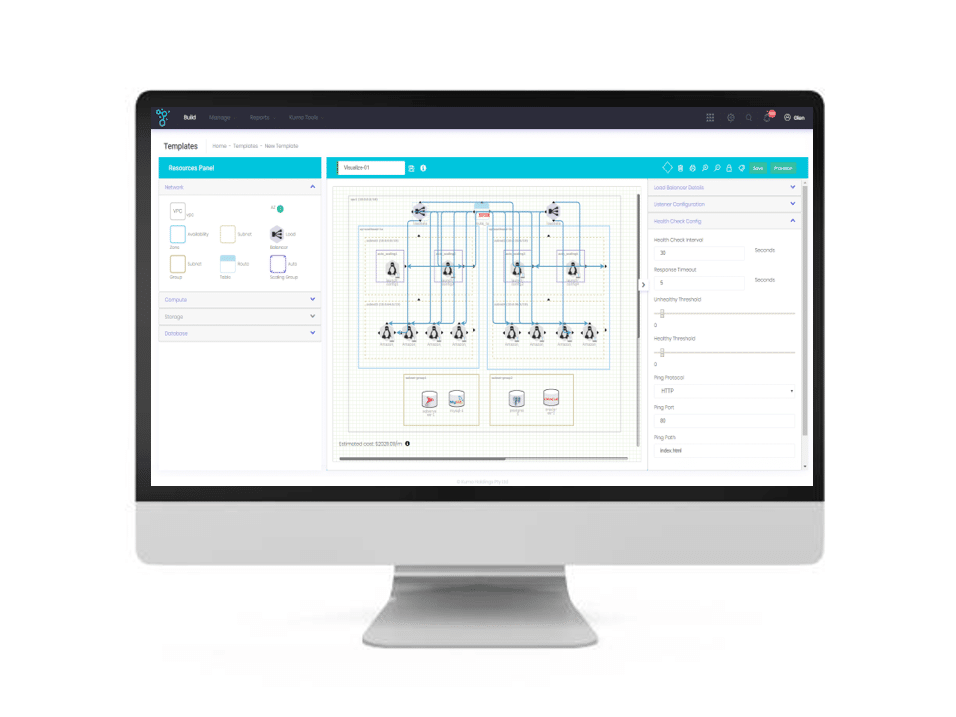 TAM CAPABILITIES – ENSURING AWS CUSTOMER SUCCESS
Examples of the skill sets of the TAM include:
Kumolus Certified Consulting Engineer
AWS Certified Solution Architect with Specialization
Industry-recognized certifications
Design and architecture training
Expertise to assist customer with service design, including: – Orchestration / Workflow Integration – Cost Optimisation, Service Optimisation, Governance – Security and Compliance – Service-level management – Capacity management – Availability management
Knowledge to participate in customer's strategy, design and project management meetings
CUSTOMER READINESS
Prior to starting Planning, it is your responsibility to have the following configuration information available for the Kumolus TAM resource to complete initial platform setup to provide Baseline information to you during the project Kick-off meeting – Relevant Cloud Account Access, SAML configuration, 3rd Party Integration requirements.
PLANNING
Imperative to team alignment – the Business Case will be reviewed by the Account Team and restated as the foundation for the Customer Success Plan. This will be re-confirmed with you during the Kick-off Meeting, so all parties are aligned regarding expected outcomes.
The Kumolus team will review the high-level on-boarding plan with you and work with you to understand integration requirements that may be particular to your environment(s). The TAM will request access to your Kumolus platform prior to the kick-off meeting to develop an initial report for you to have as a baseline from which to work forward.
The TAM will also lead the discussion as required during the kick-off meeting to review your current implementation, Cloud environment, configuration, and ecosystem tooling to identify best strategy for production deployment.
Note: Further services may be required based on the complexity of your individual requirements.
KUMOLUS CLOUD MANAGEMENT INSTALLATION
The TAM will ensure that the Cloud Management SaaS or AMI platform is accessible and configured to run within your ecosystem and includes but not limited to the following:
Single Sign-on Integration – ADFS, Okta, auth0, etc
Fundamental Customer Cloud Account Check-up
AWS / Azure Account or Organisation Setup
Dashboard Review
RBAC Controls for Users and Groups
Brown Fields Environment (Visualisation)
Foundational Financial Reporting (Identify Cost Optimisation candidates)
Perimeter Security Reporting
Basic Provisioning and Template Control
Setup Daily Email Reporting (Finance Overview)
KUMOLUS CLOUD MANAGEMENT CONFIGURATION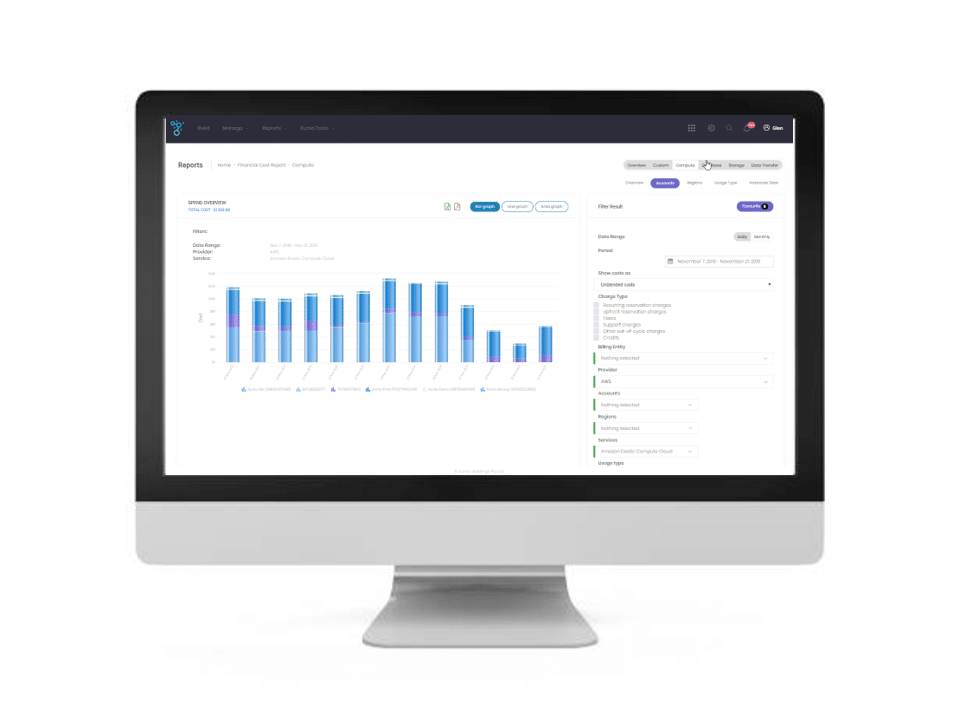 The TAM will assist you with setting up Cloud ITSM foundations, configuration management, basic governance capabilities to allow you to manage your environments effectively and provide training to your resources on the relevant modules.
Service Manager – view and review all Services (Configuration, related Services, Performance, etc)
Provisioning / Service Design

Save, Reuse and Deploy using full-stack Infrastructure Patterns
View running Environments and untagged Services

Infrastructure / Service Design using Drag-and-Drop Visualisation Builder

Configure VPC, VNET, Availability Zones, Subnet, ASG
Save as "CloudFormation" or ARM Infrastructure as Code

SOE Management

Select appropriate AWS AMI and Azure VM
Setup Public and Private, Provider, Architecture, Virtualization and Root Device Requirements
Fetch any private AMI and / or VM resources
Define SOE Configuration Templates – Instance type, RBAC, User Data Scripts, Run Commands
Setup SOE Configuration Categories – E.g. Orchestration, Audit, Pen Test, etc

Naming & Tagging – Enable

Set naming convention standards by Service Type
Set tagging convention by Key – and variables

Backup Preferences

Configure Source Service Selection – define out-of-region (Bunker) options

Training (Aligned Modules)
KUMOLUS CLOUD MANAGEMENT OPERATION
The TAM will assist you setting up operation management features of Kumolus to analyse, report, recommend and orchestrate advanced features and provide training to your resources on the relevant modules.
Applications & Environments

Managing Environments – by Status, Provider, Account
Environment – documentation, service details
Unallocated Services

Reserved Instance Dashboard

RI Calculator, Utilization, Recommendations, Reporting

Cost Advisor

Report / Identify Unused, Idle and Optimization Service targets

Advanced Orchestration

Workflow automation for Continual Cost Optimization

Custom Reporting – creating reports for customers

Financial Reporting – setup by account, tags, region, services, periods, etc
Setup charging types – Unblended, amortised, recurring, upfront, taxes, support

Report Automation – Scheduling custom reports

Save favourites and schedule for delivery to relevant stakeholders

Backup Automation and Reporting

Setup backup preferences – service selection, Bunker options and Account destination

Training (Aligned Modules)
KUMOLUS CLOUD MANAGEMENT AUTOMATION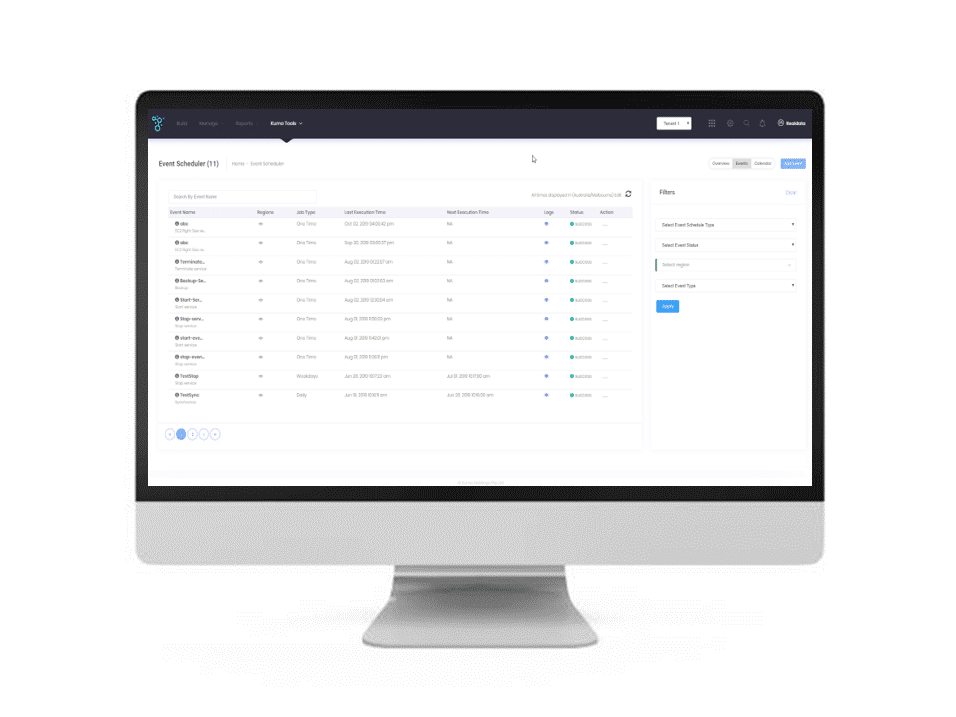 Workflow Automation
The TAM will work with your Kumolus Cloud Engineer to implement policy-based workflows that will be continually executed across your Cloud estate. These will ensure that continual cost optimisation is achieved, backup governance is always in place and business recovery position is assured.
Workflow / Event Automation

Setup automation policies for services start / stop / terminate
Configure RightSizing and Service / Instance Class Management
Setup backup policies – utilizing Backup Preferences
Reporting on Event Scheduler

Condition Management

Define and configure service Idle conditions for Server, RDS, Volumes, Load Balancers, Auto-Scaling Groups, Volume Snapshots, RDS Snapshots

Event / System Reporting

Tracking for Event Reporting, Trouble shooting and Management
Tracking for Audit and Compliance

Opt-In/Out Stakeholder Management

Understand Opt-In/Out workflow setup – email notification and Messaging Integration
Tracking stakeholder optimisation outcomes

Service Selection utilizing Tags
Utilising Tags – advanced tagging and service selection
Training (Aligned Modules)
ON-GOING KUMOLUS SUPPORT AND DEVELOPMENT
Also enjoy on-going assistance from the Account team including regular feature release updates and open access to our support teams with the ability to open unlimited support and enhancement requests.
The Kumolus team welcome are always striving to make our Platform better for our Partners and Customers. We appreciate all submissions for enhancement requests and will make every effort to develop capability for your organisation if there is reuse opportunity.
The TAM will work with your team on an on-going basis holding regular Product and Feature update sessions and also Executive Business Reviews (EBRs) every 6 months to ensure optimization is being realized, compliance is meeting regulatory compliance requirements and report on the general health of your Cloud estate(s).
Enjoy and realize AWS Customer Success with Kumolus Cloud Management
KUMOLUS TECHNICAL SUPPORT
Unlimited Support
Email and Web-based ticketing
Online ticket ID tracking
Access to online documentation
TAM available for escalations

"With a click of a button, we can deploy a server, Load Balancers, VPCs, Subnets, Subnet Groups, Databases, EBS Volumes and more with full configuration control, providing full-stack environment deployment in seconds. This allows us to focus on our objective of helping transform the business. Kumolus helps us quickly provision and manage resources in AWS without having to train people in cumbersome code"
Brock Cremer, Infrastructure Services Delivery Manager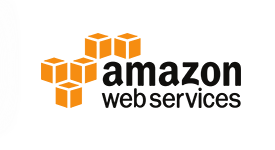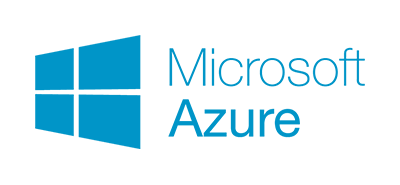 Please reach account to your Kumolus representative for more information.