How to choose a Cloud Management Platform?
How to choose an Enterprise Cloud Management Platform (CMP)?
Firstly, what is a Cloud Management Platform?
A Cloud Management Platform (CMPs) is a term Gartner uses to describe tooling that enable organizations to manage Cloud services and resources. This includes providing cost optimization, governance, life cycle management, brokering and automation for managed cloud resources. See more information from Gartner.
In simple terms there are three focus areas major CMPs address:
Cost Optimization
Governance, Security and Compliance
In Service Management terms an Enterprise CMP should have at a minimum the below capabilities:
Differences in Cloud Management Platforms
There are focused products that look at only one Cloud Provider and some that look at AWS and Azure for example. All have differences in each of the above areas in what the CMP can address. Basically, there are products in each area that deliver reporting / visibility and there are products that provide features that allow you to realize valuable benefits.  These include policy driven Cost Optimization, Infrastructure as Code (IaC) patterns, SOE configuration, backup, patch management and enterprise service management functions.
The Kumolus CMP offers all of these critical features including – visibility, provisioning, cost optimization, control and policy driven automation features.

See below diagram for the functional architecture areas of Kumolus.
Cloud Service Management for MSP and Enterprise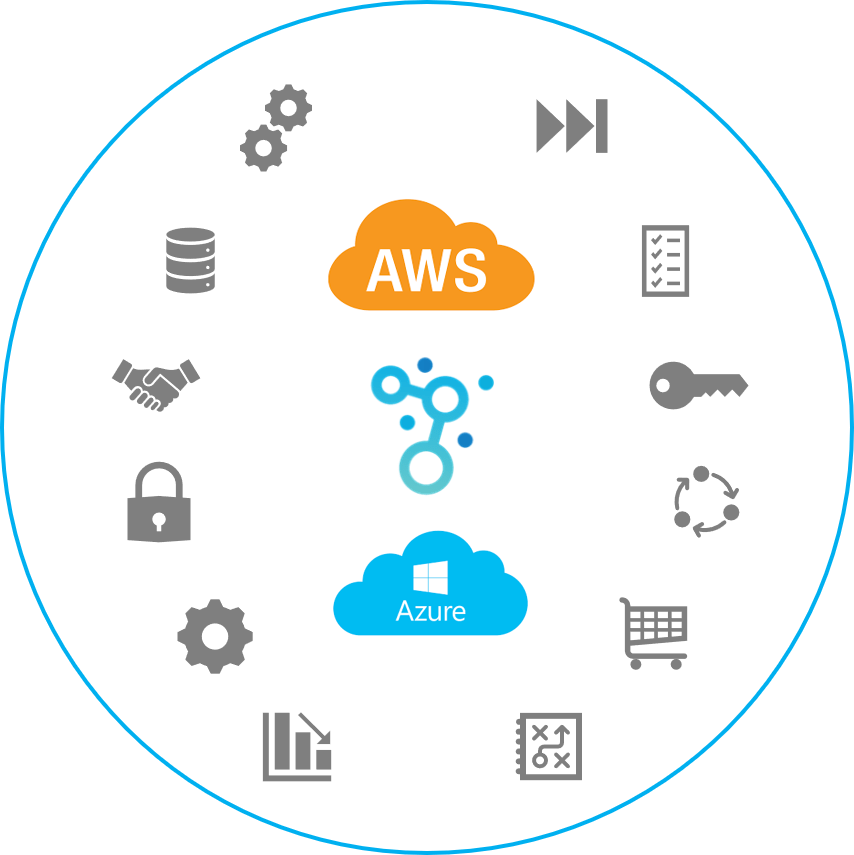 Why would you want a Cloud Management Platform?
When organisations first start their journey to the Public Cloud, migration speed is the number one focus and biggest challenge. The key factors as to why are scalability, instant elasticity, flexibility, cost savings and everything else that Cloud providers can offer. Some years later organisations are realizing that their Cloud environments have similar enterprise management requirements to their on-premise services. Organisations need enterprise management for Cloud in place to realize and maximize their Cloud productivity.
With large enterprises consuming AWS, Google and Azure resources, there is a Cloud skills gap in the market and this fact is widely recognized. Organizational leaders in public Cloud adoption are now looking for enterprise grade Cloud Management Platforms (CMPs) to automate a lot of the repetitive tasks. When coupling the drive for automation and continual Cloud Cost Optimization the relevance of a Cloud Management Platform or CMP is blatantly apparent.
How to Choose a Cloud Management Platform?
We have moved on from the question – what is the right Cloud for my business? Most organisations are now asking – how do I manage my Cloud to realize better efficiency, productivity, security and speed?
Below are a few questions you may want to consider:
Does it cover all the Enterprise Cloud Management features you need?
How quickly can you realize benefits? Day-0 Return on Investment (ROI)
How quickly can your team skill-up? Shorter the better.
What is the depth of usage visibility and granularity of governance?
Can you automate tagging and naming conventions to drive workflows?
Does the platform provide policy-based automation?
What intelligence does the platform provide to identify Idle resources?
How quickly can unused or disconnected resources be detected and removed?
Does the platform provide easily consumed reporting on a scheduled basis?
What security vulnerabilities features are provided to assist good Security practices?
Does the platform provide federated policy management?
How easily does the platform integrate with your existing ecosystem?
Can the platform be removed without affect?
Cloud Management Platforms can provide organisations with cost reduction, operational agility, increased quality and reduce risk. They do this by monitoring, identifying, analyzing and automatically responding to changes in your Cloud environment.
If you would like to test out an Enterprise Cloud Management Platform – please try Kumolus FREE for 30-days and optimize your Cloud environment at no-charge.