AWS Cloud Foundation and Tenancy
Why not streamline AWS Cloud foundation and tenancy?
Setting up and AWS Cloud tenancy foundation can be time time consuming and costly. Many organisations employ the services of costly Cloud experts to setup rigid rules, policies and templates that require continual service engagement to manage. Cloud consultants are reaping the benefits of setting up complex and difficult to evolve AWS ans Azure ecosystem foundations. Next generation Cloud Management Platforms should be removing the time, barriers and cost of this problem.
The Kumolus Cloud Management system accelerates the Cloud foundation tenancy setup and remediation of existing Cloud tenancies with minimal effort and immediate cost benefit.
Cloud Foundation becomes repeatable and template driven and includes but not limited to the following:
Tenancy Instantiation Setup
Tenant Profile Setup
Tenant pattern control
Multi-tenant Single Sign-On SSO Integration
Setup SOE Environment(s)
Multi-cloud Access Enablement
RBAC Controls for Users and Groups
Brown Fields Environment (Visualisation)
Foundational Financial Reporting (Identify Cost Optimisation candidates)
Perimeter Security Governance
Federated Backup and Revision Control
Kumolus 3rd Party Setup – NetApp, Palo Alto, Puppet, Chef, Saltstack, Ansible, TeamCity, Jenkins, Remedy, ServiceNOW, Freshdesk and more
Once this is achieved, in days not months the ability for someone to deploy and application in the AWS Cloud Foundation environment is immediate.
Dynamically deploy full stack applications in your Cloud of choice in minutes!
Utilising Kumolus visual Cloud provisioning editor your staff can draw, provision and save templates of full stack environments in minutes. Any existing Brown fields environments are automatically scanned Kumolus provides all the federated enterprise guardrails which are automatically applied to ensure a cost optimised and risk minimization for your Cloud deployment.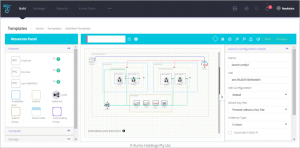 Please speak to Kumolus or one of our partners to understand how we can help you get your Cloud Foundation and Tenancy done quickly. at a low cost and give you the autonomy to deploy full stack Cloud architectures in AWS or Azure in minutes.
Visit https://kumolus.com for more information!
Kumolus Cloud Partners …