Automating Cloud Cost Management and Optimisation
Cloud Cost Management and Optimization is one of the on-going Cloud challenges. Many organisations are moving to the Cloud at speed. Most enterprises are good at building and deploying Cloud services. A lot of organisations struggle to run their Cloud environments cost effectively.
There are a number of elements to take into account when thinking about Cloud Cost Optimization.
Kumolus allows you to automate and effectively manage the following ..
Budget Alerting
SOE Management
Tagging Remediation
Resource Tagging and Tagging Automation
Idle, Unused, Under utilised resources
Scheduling shutdown automation
Disconnected Services Remediation
S3 / Block Blob Pricing Tier Reporting
Reserved Instance Recommendations
Rightsizing Instance Analysis
Custom Report Automation
Chargeback, Show-back and Invoice reporting
Snapshot Deletion
Kumolus gives you a Cloud Efficiency rating based on above and click through visibility on what to address …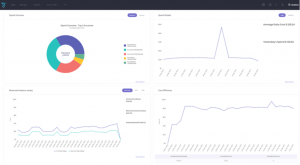 See more on Kumolus Cloud Cost Management and Optimization – Click here
Cloud Cost Management is just one component of running an optimized Cloud environment. Organisations need to look at all of the following attributes to truly optimize Cloud outcomes for the business not just the finance department struggling with an ever increasing Cloud Bill.
Kumolus helps you optimise your Cloud environment in all of the below areas:
Automation and Orchestration
Cost Management and Optimization
Governance, Security, Assurance and Compliance
Service Management Optimisation
Ultimately getting Cloud Optimization automated will deliver to the business what they are looking for – accelerated business outcomes with less risk and reduced cost!
Visit https://kumolus.com for more information!
Kumolus Cloud Partners …